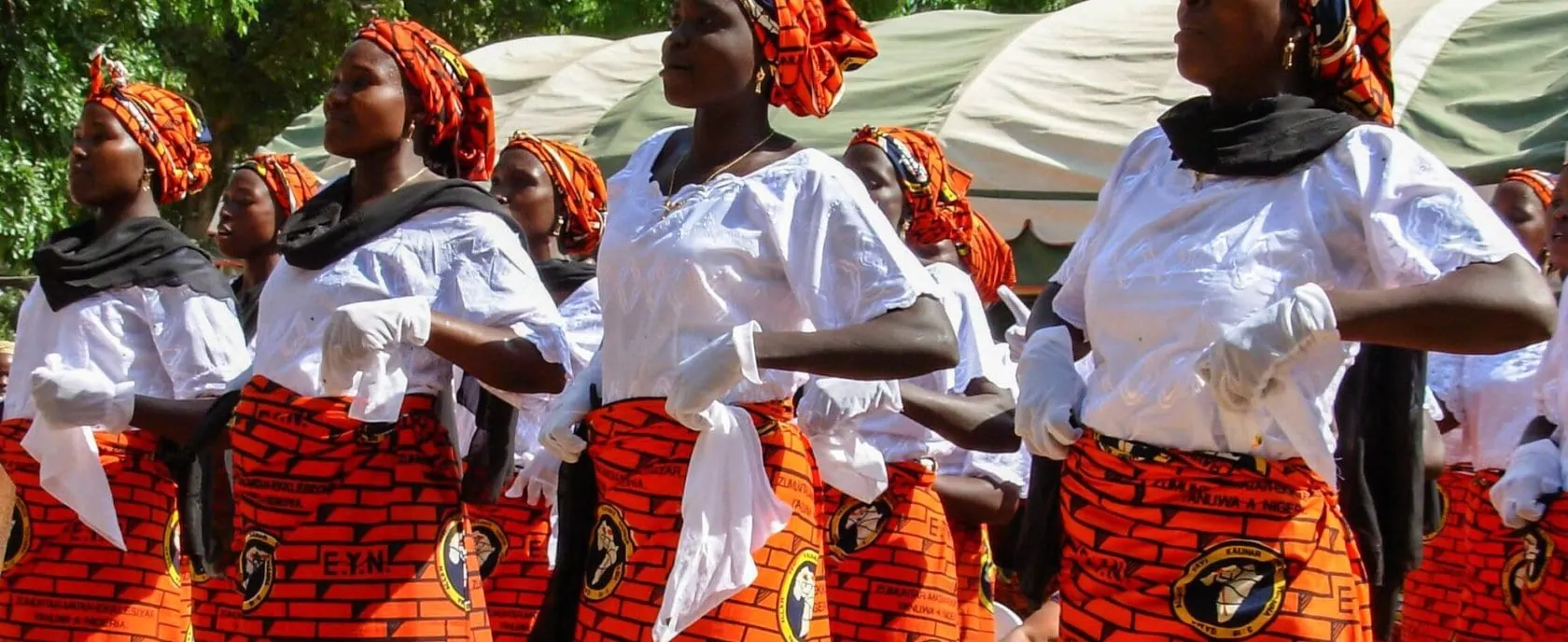 Project Number: 162.1002
Nigeria is plagued by a very high unemployment rate and a lack of prospects. Women and young people from conflict areas are disproportionately affected. In this context, Mission 21 and its partners are committed to empowering women and young people. Through education and training opportunities, they strengthen their skills and prospects in life.
Background information
Since 2009, violence by the terrorist militia Boko Haram has rocked northeastern Nigeria, while Plateau State has been ravaged by ethnic and religious conflict since the late 1990s. This has led to the displacement of more than 2.54 million people and triggered a humanitarian crisis. The situation is particularly precarious for women and girls. When attacked by non-state armed groups, they tend to become victims of abduction, forced marriage and sexual violence. Many of them also lose their husbands or parents in attacks. As widows and orphans, they are particularly vulnerable and at risk of exploitation or sexual abuse. Single women are also left on their own to feed their families. However, this is difficult due to the structural discrimination of women in society. Traditionally, women in Nigeria are responsible for the household and childcare. In Nigeria's patriarchal society, they are often excluded from access to education and the labor market. Without schooling, widowed and single women as well as women refugees are particularly at risk of falling into extreme poverty or becoming victims of exploitation.
For their part, young people usually see no prospects in life in view of the weak economy in the country. Characterized by violence, insecurity and a lack of prospects, many of them slide into drug addiction or crime. Both women and youth have the potential to make an enormously important contribution to social cohesion and economic development in Nigeria. In order to strengthen their role in society and offer them a perspective, Mission 21 and its partners specifically target women and young people. They support them through vocational training and training in personal skills and life skills. The focus is on widows and young women who have been victims of Boko Haram attacks, as well as on vulnerable young people from conflict areas.
Project goals
Women and girls can read and write.
Vulnerable groups of people are empowered to function as productive members of society.
Vulnerable groups of people have the skills they need to earn a living for themselves.
Target group
The target group of the educational projects are vulnerable people from the states of Adamawa, Borno, Kaduna, and Plateau, which are characterized by poverty and armed conflicts. These include, for example, victims of the Boko Haram crisis and conflicts between farmers and Fulani militants, especially widowed and single women, as well as women and girls who have been victims of abduction and sexual violence. The target group also includes young people from Jos, who are characterized by poverty and violent conflicts, are instrumentalized for violent conflicts and have slipped into drug addiction.
Activities
Literacy courses for widows, single women and girls in various educational centers (Dzakwa, Kaduna, Yola, Kwarhi).
Vocational training for widows, single women, and vulnerable youth in the professional fields of fashion design, tailoring, knitting, and IT at various training centers.
Vocational training for adolescent women and men affected by drugs, violence and poverty in the city of Jos.
Awarding start-up grants to successful graduates of vocational training programs.
Vocational workshops on topics such as personal development, women's rights, sexual and gender-based violence, trauma awareness, and resilience.
Awareness-raising activities for the prevention of infectious diseases such as HIV, as well as confidential counseling and accompaniment.
Workshops in business management for widows and awarding of a seed capital to start their own small business.
Workshops for young mothers on nutrition and hygiene to promote mother-child health.
Psychological care and individual sessions on trauma processing for victims of violence and conflict.
Awareness campaigns regarding human rights and gender-based violence to empower women and girls and increase their educational opportunities.
Project progress
Despite the ongoing Corona pandemic, the projects in the field of education could be continued in 2020. Around 50 women learned to read and write at a training center run by the partner church EYN. Another 50 women attended a workshop in business basics and subsequently set up their own small businesses. Furthermore, around 100 young and widowed women completed their vocational training, e.g. as dressmakers, in the fall of 2021 and received start-up capital in the form of a sewing machine. Since then, 13 female graduates of the ZME training center have started their own sewing businesses.