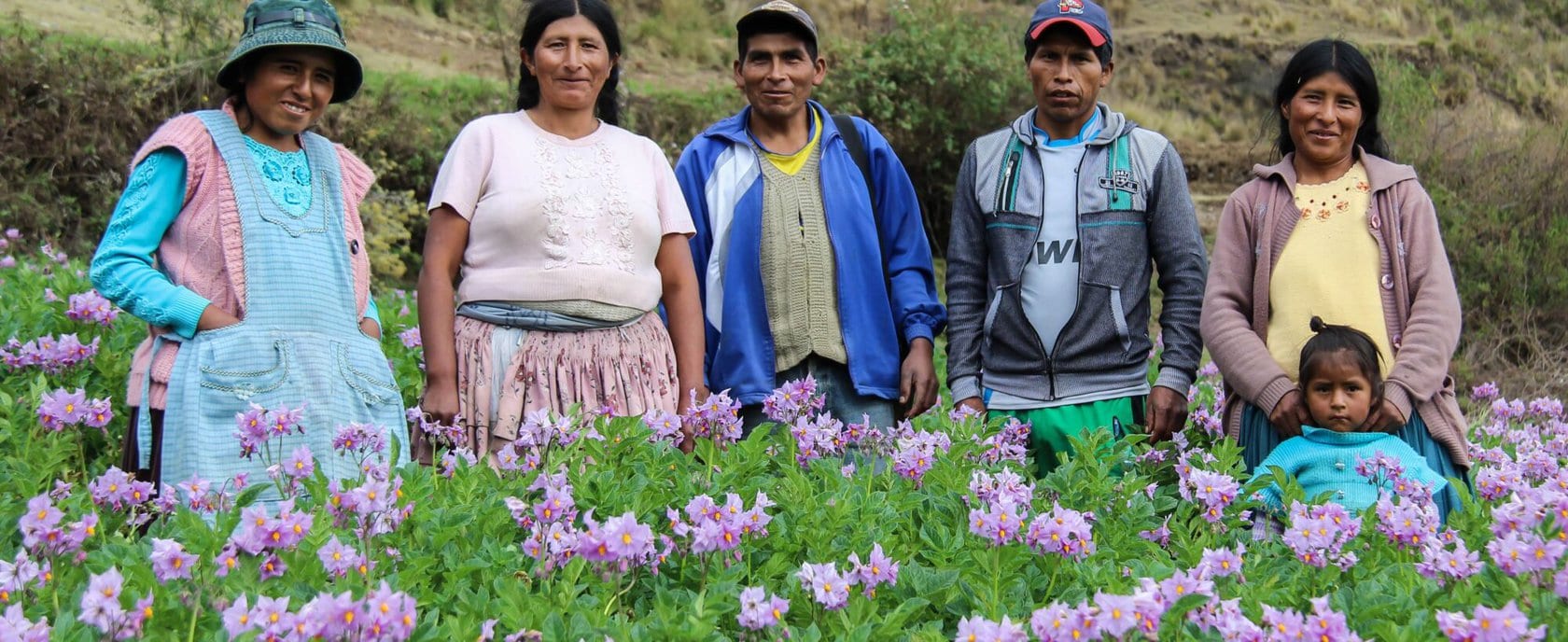 Food sovereignty in the Andean region
Project Number: 420.1020
Humanity has never produced as much food as it does today, yet 822 million people worldwide still suffer from acute and chronic hunger. Another 2 billion are affected by nutritional deficiencies according to the Food and Agriculture Organization (2019). 75% of those affected live in rural areas and are primarily female. In the Andes in southern Peru and northern Bolivia, our partners work with over 2590 Quechua and Aymara-speaking smallholder women and men farmers and many social organizations to ensure their right to food. To achieve this, they work with agroecological farming methods, thanks to which they not only cultivate the soil and fields in harmony with nature and bind climate-damaging Co2 into the soil, but also create new food systems with the help of local seeds, biofertilizers and small winter gardens, which provide families with nutritious food on a permanent basis. Working with our partners, vulnerable and marginalized populations build their own resilience, health, and autonomy.
Background information
In the strategic impact area of food sovereignty, we work in Bolivia in provinces of the department of La Paz and in Peru in the provinces of the departments of Puno and Cusco. In these areas, there is a lack of a varied, balanced and healthy diet. Diseases such as diabetes, hypertension, anemia, gastrointestinal and respiratory problems are on the rise. People's health is also threatened by poor water and soil quality due to contamination by heavy metals, agrochemicals and other substances. Not only agribusiness, but also small farming families are overexploiting natural resources in an attempt to meet their needs. Ecosystem degradation, reduced ability of soils and forests to sequester greenhouse gases, and increased vulnerability to climate change are consequences of this.
Climate change leads to water shortages and favors the emergence of new diseases and pests. For this reason, small farmers have been using more and more pesticides and fertilizers as well as industrial and genetically modified seeds for several years. This leads to an increasing dependence on agro-industry and a significant loss of biodiversity. Women do the main work in providing for their families and do most of the subsistence work, while men and the younger generation migrate and work as migrant workers or miners. Despite their great achievement, women are disadvantaged in terms of land ownership and they have very limited participation in decision making both in the farming community and in the wider public sphere. Empowering women in agroecological farming practices not only improves the health of family members in many cases, but simultaneously bolsters household incomes and gives women a political voice of weight within their community.
Project goals
Smallholder families produce high-quality food according to agroecological principles (SDG 2.4) and eat a healthy and balanced diet throughout the year (SDG 2.1). They manage farmland in a way that conserves resources and is in harmony with nature, and participate in policy processes at the local, regional, and national levels to promote resource-conserving, organic agriculture to achieve food sovereignty (SDG 16.7). Equal opportunities for women and their participation in decision-making processes are particularly promoted (SDG 5.5). In addition, multi-stakeholder initiatives (CBC & PNS) promote critical analysis, debate and knowledge sharing of concepts, approaches and best practice experiences among smallholder farmers and institutions. Finally, the knowledge exchange and collective work on the topic of food sovereignty serves to develop policy proposals at the regional and national level, which are introduced through lobbying and advocacy at the appropriate bodies in Bolivia and Peru.
Target group
Our partners' project activities train the following target group in agroecological agriculture, sustainable soil and water management, and healthy food consumption:
372 smallholder farmers in Ayata, La Paz, Bolivia (65% women, 35% men) (FMA).
1`566 smallholder farmers in Luribay, La Paz, Bolivia (51% men and 49% women) (Fundapim).
197 Urban residents working in urban gardens in El Alto, La Paz, Bolivia on the topic (80% women, 20% men) (Focapaci).
70 families in Caminaca and Arapa, Puno, Peru (60% women, 40% men) (Cedepas Centro).
275 smallholder women and men farmers in Quechua-speaking communities of Oropesa, Cusco, Peru (70% women, 30% men) (Centro de la Mujer Peruana Flora Tristan).
110 small farmers and 120 participants from academia and grassroots social movements from Cusco, Peru (Centro Bartolomé de las Casas).
160 social (grassroots) organizations in Bolivia (Bolivian Network for Healthy Soils, PNS).
Activities
Farm families and social organizations are trained and supported in the following areas:
agroecological farming methods that diversify the food base and help to adapt to climate change, in part by reforesting areas.
Diversification and reappropriation of local seeds.
Improved soil & water management
healthy and balanced diet
Right to food, to land, to water, to traditional seeds
in the creation of market access and revenue opportunities
on participation in political processes
on gender justice and violence prevention
You can find more information on this topic in the video contribution from our partner PNS:
Project progress
Agroecological methods
All partner organizations were able to continue to motivate the farming families for agroecology. A large proportion of the families produce between 50% and 75% of their fields organically. They hardly use chemical fertilizers and pesticides anymore. Instead, they use an average of 10 agroecological methods in their production: including organic fertilizers, green manures, and biological pesticides. They use bio-indicators, practice mixed cropping and crop rotation. Soil improvement measures are also taken, and agriculture and forestry are combined. Some families already produce their own seeds.
Balanced Nutrition
A large part of the families consume their home-grown vegetables every day and cook new recipes. According to their own statements, the respondents feel healthier and more efficient.
Income generation
50% of families generate more than 75% of their total income by selling their products.
Bolivia
11.842 million inhabitants (2021)
37.5% live below the poverty line (2021).
Peru
33.035 million inhabitants (2021)
30% live below poverty line (2021).
Project budget 2022
CHF 280'000