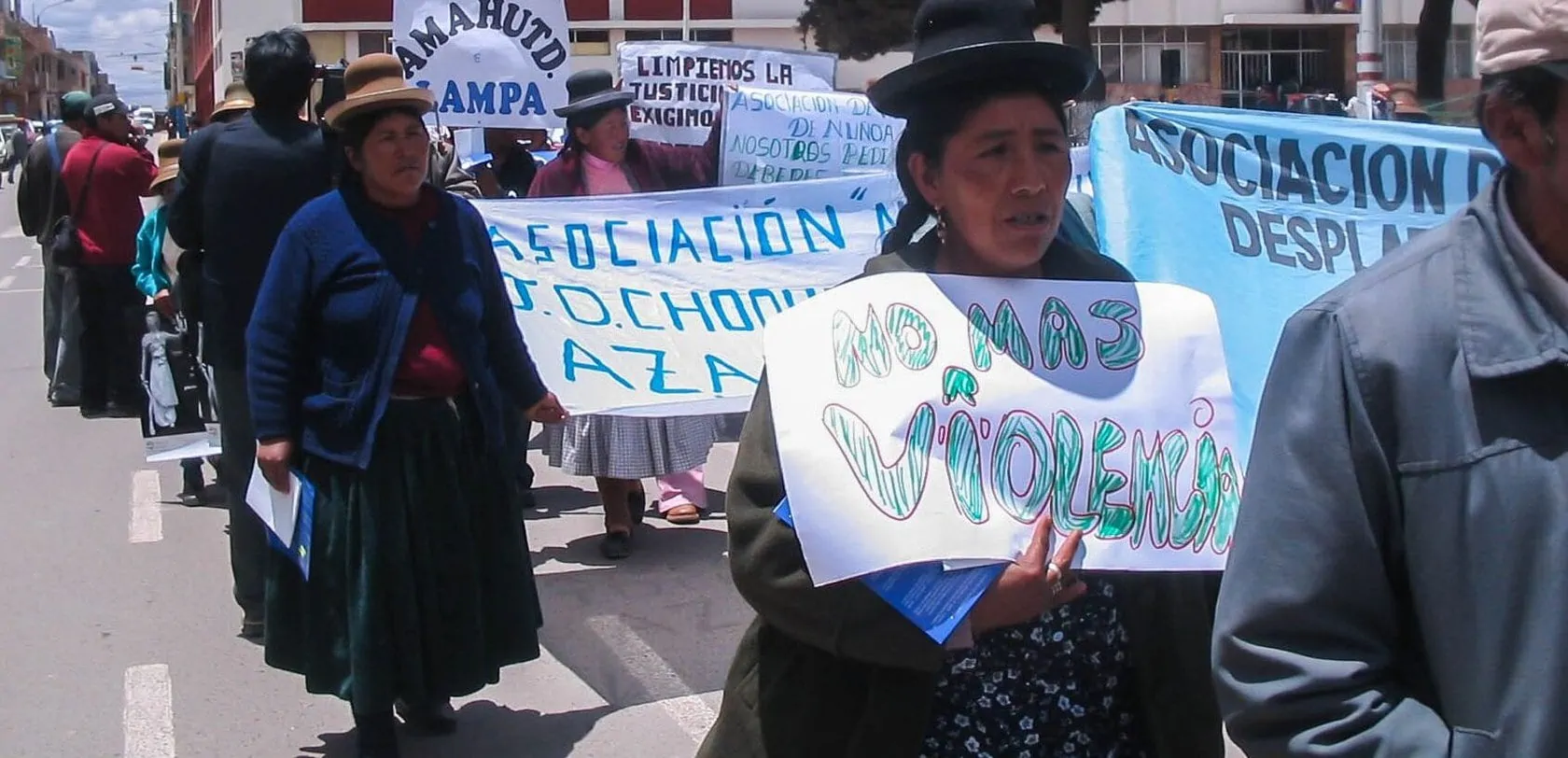 Overcoming violence - enabling self-determination
Project Number: 400.1021
Violence is a widespread and structural problem in all Latin American countries and their fragile democracies. Our project partners are particularly committed to combating violence against environmental and human rights activists, as well as domestic, sexualized and gender-based violence. The latter form of violence primarily affects women and girls, but also sexual minorities. It can be psychological, economic or physical violence that takes place in both public and domestic spaces. Work against gender-based violence covers a wide range of thematic areas, including domestic violence, sexual violence, forced prostitution, and trafficking in women and children. Our partners are active in prevention work as well as in accompanying victims of sexual and domestic violence. Domestic violence in Latin America often leads to femicide, which is the most radical form of gender-based violence. Domestic violence can also lead to sexual violence. In addition to women, their children and adolescents are often affected by domestic and sexual violence.
Background information
The opportunities for civil society to participate politically have indeed increased in Latin America in recent years. Environmental, human rights and women's organizations closely monitor government policies and engage in active public relations and lobbying. But it is precisely this involvement that carries great risks for the activists. Many of them are exposed to repression, persecution and attacks. Nevertheless, they are committed to those who continue to have no voice.
Nowhere in the world is violence against women as pronounced as in Latin America. In recent years, it has reached epidemic proportions. Numerous countries in Latin America are at the top of the world's appalling statistics for female homicide and rape. Curfews imposed to curb covid-19 have further exacerbated the situation. Moreover, punitive norms against domestic violence are often not implemented, or are implemented inadequately, due to a lack of political will on the part of governments.
The term femicide includes, but is not limited to, the murder of a woman as a result of intimate partner violence, the torture and/or killing of women for misogyny, the killing of women and girls in the name of "honor," the targeted killing of women and girls in armed conflict, and cases of femicide related to gang or organized crime, drug trafficking, and trafficking in women and girls.
Not only women, but also children and young people have always been disproportionately exposed to domestic violence in Latin America. Due to the additional stress factors (e.g. ongoing school closures since March 2020), the situation has also worsened many times over for them since the outbreak of the Corona pandemic.
Project goals 2022 - 2025
Peru
Appropriation of (sexual) violence prevention in rural communities of Cusco. Work with community members, community committees and government agencies (Flora Tristan).
Audiovisual awareness campaigns in Quechua us Spanish (Flora Tristan).
Comprehensive legal and psychological support for victims (Flora Tristan)
(Economic) empowerment of women from rural communities (Flora Tristan).
Reducing violence in Puno's schools and in students' families (EMAUS).
Reduction of domestic violence in Puno through the de-patriarchalization of families (ISAIAS).
Implementation of existing legislation against violence against women (ISAIAS).
Bolivia
Creating safe and inclusive living spaces for children and youth with and without disabilities in the cities of La Paz, El Alto, and Riberalta for protection from sexual violence and for resilient children and youth (FMA);
Victim Assistance (FMA);
Chile
Women affected by violence from Concepción's poor neighborhoods receive psychological, social, and legal support (SEDEC).
Contribution to the prevention of gender-based violence in Concepción (SEDEC).
Victim Assistance (SEDEC)
Costa Rica
Protection measures, psychosocial support and training for human rights activists and refugees under threat (DEI)
Victim Assistance (DEI)
Target group
4500 inhabitants of Choquepata, 25 permanent multipliers, as well as (state) authorities (incl. police) responsible for the community (Flora Tristan)
100 children (≤ 14 years), 100 young people (15-24 years), 150 parents, and 10 tutors (EMAUS).
30 Women (ISAIAS)
1,130 children and adolescents from 15 schools, 135 accompanying and teaching staff from the schools, as well as 120 mothers and fathers or caregivers of the children and adolescents being trained (FMA)
10 women affected by violence, of which 50% are adolescents (SEDEC).
10 "family companions", 100% women (SEDEC).
50 persons, 90% of which women (SEDEC)
34 people, including 30% women, 24% LGTBQI, 30% children, 11% men (DEI).
Activities
Peru
Workshops in violence prevention to the different target groups, audiovisual campaigns in Quechua for awareness raising in the community and also through local media (Flora Tristan).
Comprehensive (legal) victim support (Flora Tristan).
Women's Economic Empowerment (Flora Tristan).
Training of so-called "tutors" to accompany the students and their families (EMAUS).
Conducting lessons and workshops for students and their parents in non-violent conflict resolution (EMAUS).
Conduct training courses on gender, gender-based violence and on women's rights (ISAIAS).
Organizing short training courses for women in traditionally male domains, e.g. as drivers, repairing cell phones and PCs, sanitary repairs (ISAIAS).
Lobbying local and regional decision makers on gender, gender-based violence, and implementation of existing legislation (ISAIAS).
Bolivia
Awareness-raising and training workshops on sexual violence and trafficking in human beings, and inclusive violence prevention, for protection officer institutions and national and local authorities. (FMA)
Comprehensive and inclusive prevention workshops for children and youth, inside and outside schools (FMA).
Awareness-raising and information workshops for parents, guardians and primary caregivers (FMA)
Creation and dissemination of audiovisual communication materials for the comprehensive prevention of sexual violence and human trafficking (FMA).
Implementation of awareness campaigns (FMA).
Chile
Support for women affected by violence (SEDEC)
Training of family companions for the recognition of violent situations in families and for the prevention of violence (SEDEC).
Conduct courses to raise awareness about and prevent gender-based violence (SEDEC).
Lobbying on gender-based violence (SEDEC).
Costa Rica
Accommodation and meals in the Casa DEI of threatened human rights activists* and refugees (DEI).
Psychosocial support and legal advice
Continuing education courses to strengthen resilience and clarify future perspectives (DEI)
Latin America
260 murdered activists in Latin America (2020)
Peru
146 femicides, 22,456 cases of sexual violence, 5900 disappeared girls and women (2021).
Bolivia
180 femicides, 8,513 cases of sexual violence (2021).
Chile
55 femicides (2021)
6,671 Reports of sexual violence
Project budget 2022
CHF 144,500