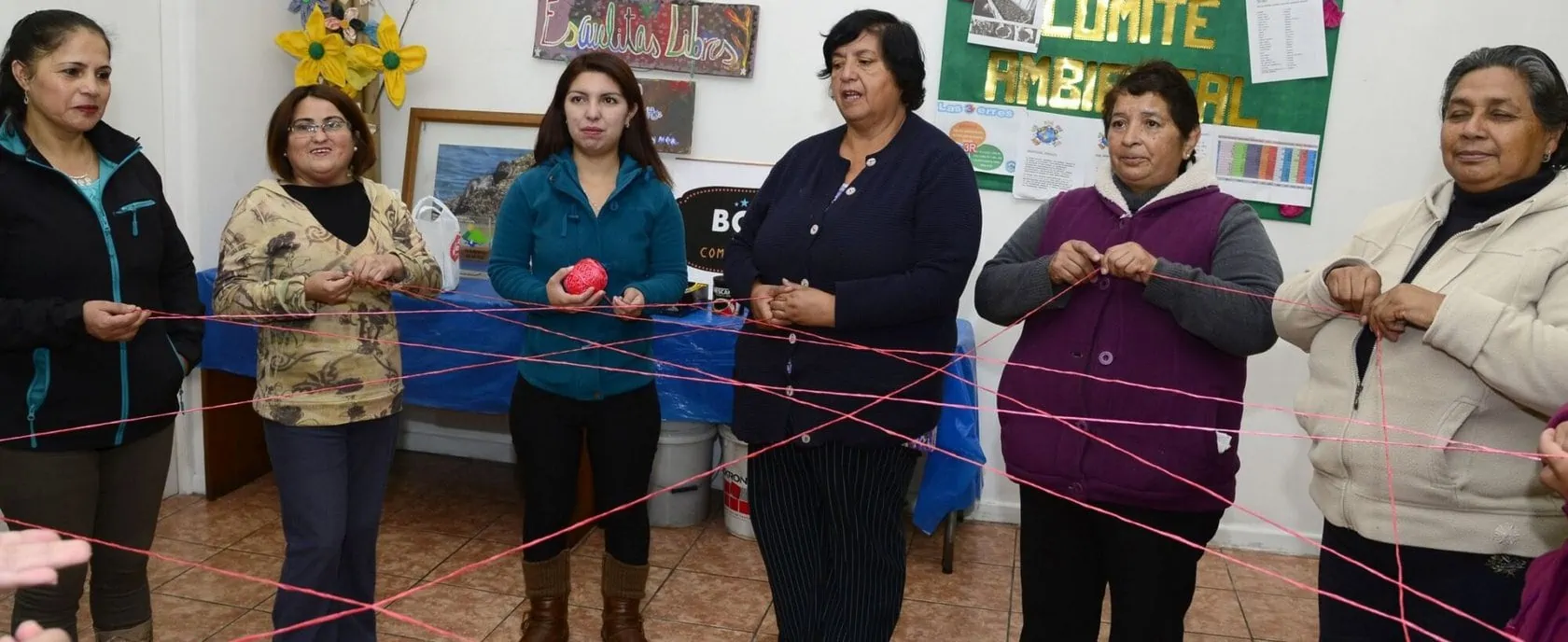 Strengthened for the Future: Education and the Advancement of Women in Chile and Peru
Project Number: 476.1020
Within the strategic impact area of education, the aim is on the one hand to teach basic skills such as reading and writing, and on the other to promote life skills such as problem solving, critical and creative thinking, effective communication, decision-making, interpersonal relationship skills, strengthening self-confidence, empathy and coping with stress and emotions. Another goal is to empower people to participate in social and political processes to advance the democratization process. Particularly in countries with inadequate formal education and a lack of further training opportunities, such as Peru, the interventions of our project partners in the area of personal development and empowerment are an important supplement to the state school and training system. However, even in countries with better developed education systems, such as Chile, these measures are of great importance, as the skills to be promoted are often not included in the curricula of formal education.
Background information
In the field of education, our project partners in Peru work in various rural provinces in the department of Puno. Here, the poverty rate is almost 40 percent. A large part of the population is of indigenous origin. Aymaras and Quechuas in particular are strongly represented. Although Peruvian law provides for extensive citizen participation and recognizes the rights of indigenous peoples, in practice this happens only inadequately. The state often continues to discriminate against and patronize indigenous peoples. Authoritarian officialdom is the order of the day. Time and again, there are social conflicts (including environmental conflicts), violent protests and great mistrust on the part of the indigenous population toward state authorities. Indigenous women suffer particularly from the situation and are repeatedly discriminated against. In Puno, about 16 percent of women are illiterate.
Due to the low employment opportunities in the countryside, many men leave their families to seek work in mines or in the city. Thus, women take over the role of head of the family. Their workload increases sharply as a result. In addition to the family, they must increasingly take care of productive activities and participate in the development of their community, although they continue to suffer from exclusion, discrimination and lack of education.
The women from the poor neighborhoods around Concepción in Chile are exposed to great economic insecurity. In addition, many of them also have little schooling, have low self-esteem and are solely responsible for supporting the family. In addition, most families in the poor neighborhoods are dependent on the state health care system. This means that they have to pay up to half of the costs for medicines, which they often lack, and often have to stand in line for hours for a medical consultation. In addition, they are insufficiently informed about their rights regarding social and health insurance.
Project goals 2022 - 2025
Women from Azangaro province, Puno region, are literate and have basic skills to successfully manage their daily lives (ALFALIT)
Children from the province of Azangaro, Puno region, have received tutoring to successfully complete the school year
Women from the indigenous women's organization "Bartolina Sisa" of the province of Chucuito, region of Puno, have been trained as leaders, assume leadership functions in their organization and advocate for the interests of their grassroots (IDECA)
Leaders (50% women) from the Puno region expand their knowledge of leadership and actively participate in political and social processes (ISAIAS).
Women from Concepción learn self-care strategies and have life skills that enable them to better manage everyday life (SEDEC)
People from Concepción know about herbal medicine (SEDEC)
Health sector personnel in Concepción (SEDEC) have the necessary knowledge to promote and strengthen complementary medicine within primary health care (SEDEC).
Target group
The education impact area targets over 75 percent women. Over 90 percent are people from marginalized and vulnerable sectors of the population:
100 women from the province of Chupa, in the district of Azángaro, region of Puno (Alfalit)
50 children (30 girls, 20 boys) from the province of Chupa, in the district of Azángaro, region of Puno (Alfalit)
30 women from the 7 districts of Chucuito province, Puno region (IDECA)
40 leaders (50% women) from the 13 provinces of the Puno region (ISAIAS).
80 women from Concepción's slums (life skills area) (SEDEC).
150 people (75% women) from Concepción's slum (medicinal herbs and alternative medicine sector) (SEDEC).
50 people (60% women) from the health sector in Concepción (SEDEC).
The majority of beneficiaries are adults (≥ 25 years old). Only a small proportion (20 people at SEDEC) are young people (15-24 years old). The target groups in Peru will remain unchanged over the four program years. The target groups in Chile may change from year to year
Activities
Implementation of the literacy program
Implementation of a training course for leaders
Implementation of a training course for indigenous women leaders within the framework of the "Escuela Comunitaria Kullakanaka Sartawipa".
Conduct self-care and life skills classes.
Conducting courses on basic health knowledge and on the use of medicinal herbs and other alternative healing methods.
Conduct courses on alternative medicine for health care professionals and public relations to promote alternative medicine.
Peru
33.035 million inhabitants (2021)
23.5% of women in rural Peru can neither read nor write
Chile
17.5 million inhabitants
33% of income is generated by the richest percent of the Chilean population
Project budget 2022
CHF 118'000