On the political stage of South Sudan, two men determine war and peace: President Salva Kiir and his rival, former Vice President Riek Machar. For years, civil war reigned, fed by their struggle for power and influence. In September 2018, the two politicians signed a peace agreement.
In everyday life, it is others who live with the consequences of war and fight for peace. For example, Elizabeth Nyayuk. She had to flee her hometown of Malakal. "We were walking for days on side roads," she recalls, "armed killers were walking on the main road." Today, she lives a hard life in the South Sudanese capital of Juba. "The worst thing is when the children have nothing to eat," says the mother of four, "then I can't think of anything else."
A very similar story is told by a second woman with the same first name: Elizabeth Deng also had to leave Malakal and has been living as a displaced person in her own country for five years. The flight separated her from her husband. In Juba, she sells vegetables at the market. "Sometimes the money is still not even enough for enough water," she says.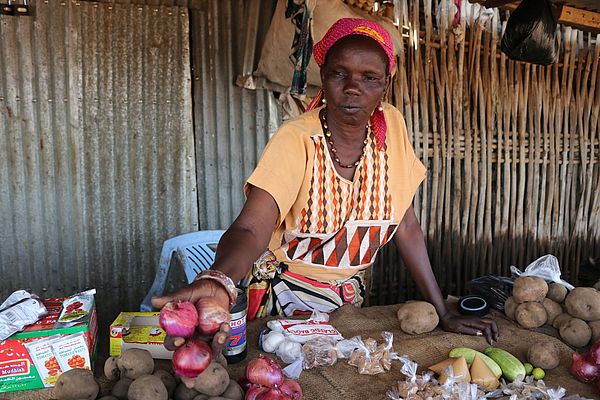 Elizabeth Deng at her market stall.
The stories of the two women are similar, but there is a difference. Elizabeth Deng belongs to the Dinka ethnic group, like President Salva Kiir. Elizabeth Nyayuk is a Nuer, like Salva Kiir's opponent, Riek Machar.
Dinka and Nuer are enemies in South Sudan. Since the power struggle between Kiir and Machar erupted in 2013, there have been atrocious acts of violence on both sides. Numerous peace agreements failed. It was not until September 2018 that a peace treaty was signed, giving people hope for real peace. But in everyday life, this peace is not yet a reality. People are traumatized by the violence of the past years, and deep rifts run through society.
Elizabeth Deng and Elizabeth Nyayuk are trying to bridge these divides together. They are close friends and are working together in Juba for the peace work of the Presbyterian Church in Southern Sudan (PCOSS). The fact that they are working side by side for peace is extraordinary and courageous in the current situation. Because dealing with people of the other ethnic group - even more so in public, as in the case of the two Elizabeths - can be very dangerous in South Sudan.
The PCOSS is the partner church of Mission 21 in South Sudan. It is strongly committed to peace. Those in need are provided for as far as it is possible. The focus of the peace efforts is to enable encounters between people from opposing groups and to break down prejudices. This is achieved, for example, in church services. Participants from different backgrounds gather here. Since the government has lost its credibility, the church is one of the last institutions in the country in which people still place their trust.
In their work, the two Elizabeths always use the church services to talk about peace and invite people to other activities, for example, women's conferences, public rallies or workshops. They go from house to house, appearing before their church congregation, and in this way convince more and more people of the need for peaceful coexistence between ethnic groups.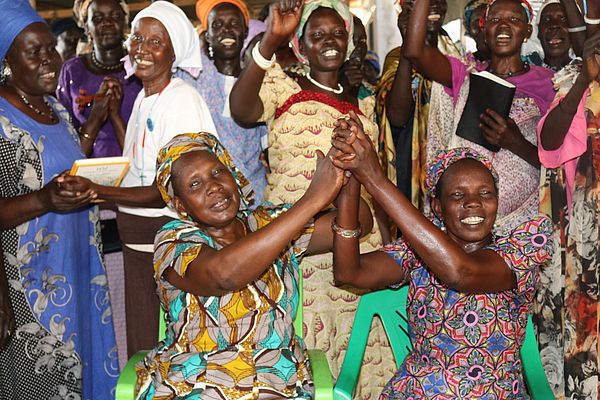 Elizabeth Nyayuk and Elizabeth Deng at a reconciliation workshop they led.
Talks are important, but so is practical help: "We visit the sick and distribute aid such as food, blankets and soap," says Elizabeth Nyayuk. Elizabeth Deng adds: "In the meantime, people know us - and they come to us for advice, regardless of which ethnic group they belong to.
Trauma work is an important part of peacebuilding for Mission 21 and its partners in South Sudan. After all, reconciliation is hardly possible if there is no confrontation with traumatic experiences. This is also true for Elizabeth Nyayuk and Elizabeth Deng themselves, and they know how difficult it can be. "I've experienced a lot of bad things, and some things I don't want to remember because it's too painful," says Elizabeth Nyayuk. Still, coming to terms with wrongs suffered is a prerequisite for forgiveness. A path on which Elizabeth Deng and Elizabeth Nyayuk accompany others, as part of their commitment to their church.
"Elizabeth Nyayuk belongs to the Nuer ethnic group. During the war, her ethnic group fought my Dinka ethnic group," says Elizabeth Deng - "but that's exactly why we have to stand together!" Because that's how they show people that forgiveness is possible: "Dinka and Nuer can live and work together in South Sudan united."
The wounds of war are far from healed. But Elizabeth Deng and Elizabeth Nyayuk draw strength from their friendship. "If it's not there, something is missing," one says of the other. Together, they work to build more friendships, preparing the ground for peace to grow.
Text: Miriam Glass, Photos: Silvano Yokwe
► Our 2019 Peace Campaign