Campaign 2024
September 8 - Advent 1 2024
Using old knowledge to find sustainable solutions for food sovereignty 
Although enough food is produced worldwide, millions of people suffer from hunger. Mission 21 has set itself the goal of promoting food sovereignty by means of further training in agro-ecological cultivation methods, taking into account the valuable old knowledge of indigenous and farming communities. In this way, soils and fields can be cultivated in harmony with nature, climate-damaging greenhouse gases can be bound in the soil, and new food systems can be created using local seeds, organic fertilizers and small winter gardens, which provide families with nutritious food on a permanent basis. In Latin America, for example, we are working on this with our partners in the Andean regions of Peru and Bolivia. However, our educational work for sustainable food security also extends to other countries and continents.
Would be great if our 2024 campaign gets a place in your agenda and we work together and globally for food sovereignty. Thank you very much.
More information on campaign activities and participatory events will be published in spring 2024.
Receive campaign info by mail
Mark your calendars for the 2024 campaigns!
The facts are alarming: nearly 830 million people worldwide suffer from chronic hunger and 193 million are at risk of acute hunger. Two billion people are affected by malnutrition. All of this particularly affects women in rural areas: around 75 percent of those affected are women. Action and especially support for women is urgently needed.
What is food sovereignty?
Food sovereignty means that all people should have access to a just food system. They should be able to produce sufficient nutritious food locally and sustainably. To this end, traditional, indigenous knowledge should be renewed and supplemented with current ecological knowledge. This would also strengthen democracy and self-determination.
Mission 21 and its partner organizations link this concept to the following goals:
Smallholder families produce high-quality food according to agroecological principles and eat a healthy and balanced diet all year round.
The families cultivate the fields in a resource-conserving manner and in harmony with nature. Soil and water management is sustainable and takes into account new challenges in the context of climate change.
Women and men participate in political processes at local and regional level to promote agroecology and food sovereignty. Equal opportunities for women and their participation in decision-making processes are particularly promoted.
Where production surpluses occur, families receive further training and support in marketing the products and income generation.
Doc Series: Food Sovereignty in the Andes
Watch part 1 of our five-part documentary on our food sovereignty projects in the Andes here. Part 2 will follow in September.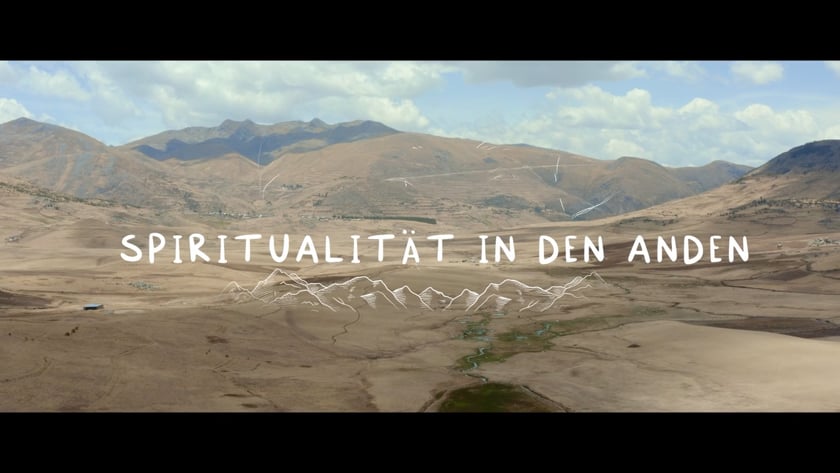 Our video shows how indigenous small farmers from Peru and Bolivia want to obtain their food with a deep connection to nature and at the same time preserve creation. Their life concept "Buen Vivir" should also motivate us to lead our lives in community and in connection with the ecosystem of the earth, to shape our consumption mindfully and consciously and to produce less waste.
Agroecological cultivation methods
Agroecology combines trans- and interdisciplinary knowledge by linking the social with the ecological dimension and combining traditional, as well as local knowledge with scientific findings. Agroecology also makes particular use of small-scale, diversified farming systems. It focuses on optimizing nutrient cycles and the interaction with local ecosystems. The basis for optimization is the available natural resources of sun, water, soil, species and variety diversity, as well as the knowledge of the local people and communities.
Agroecological agriculture in the Andes
In Latin America, our partners are working intensively with over 4,000 quechua and a smallholder farmers to ensure their right to food and create new income opportunities for them. This is because global warming is creating major challenges: Water shortages, extreme frosts, and increased diseases and pests threaten crops in the Andean belt and the livelihoods of the population.
This is where we come in, with our partners training and supporting farmers in agroecological farming, sustainable cultivation and irrigation, and healthy nutrition. By using agroecological methods, the participants manage the soil and fields in harmony with nature and create sustainable nutritional foundations. Local seeds, organic fertilizers and small winter gardens ensure a sustainable and nutritious meal for the families.
Commonly used methods in agroecological farming include:
Biological pest control instead of the use of pesticides
Use of self-produced organic fertilizer instead of chemical fertilizer
Production and use of local seeds
 Cultivation of mixed varieties and mixed crops
Diversified crop rotation
Incorporation of bush and tree stands following agroforestry practices
Establishment of a natural balance between crop production and animal husbandry
Valuable ecological knowledge worldwide
We also work with sustainable food sovereignty projects in Africa and Asia. Around the world, your support makes an important contribution to ensuring that valuable knowledge of indigenous and peasant communities in the Global South forwarded and can be supplemented with today's agroecological knowledge.
The preservation of forgotten knowledge of the older generations - for a life in harmony with nature - is also an issue here in Switzerland. Help to bring this awareness work forward in Swiss society as well. Together with you, we can create a more just and sustainable world.
Our food sovereignty projects worldwide
Our contribution to climate justice
Alternative farming models and food production systems would not only offer promising solutions for dealing with the climate crisis in Switzerland, but would also have a positive impact on (soil) biodiversity, water and soil protection, and thus on Switzerland's ecosystems. However, promoting and implementing alternative agricultural management methods and modified food production systems in Switzerland that lead to a measurable positive impact on the environment requires a willingness to act on the part of all stakeholders involved - from farmers, wholesale distributors and politicians to consumers.
What can be our contribution as consumers?
Reduce consumption of animal products
Prefer products from organic production
Seasonal and regional food consumption
Direct purchase of agricultural products from farmers
Minimize food waste in the household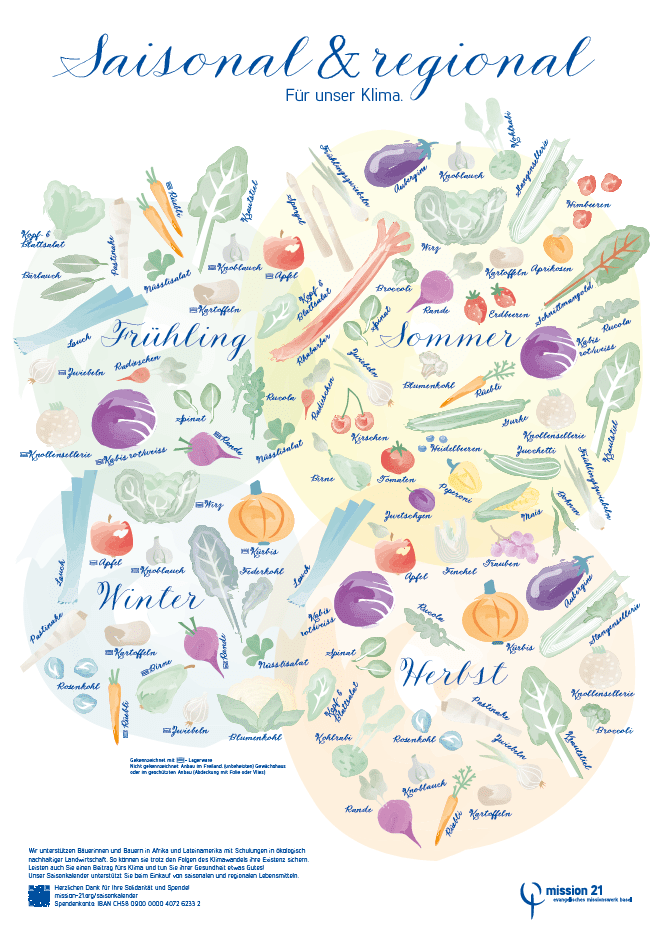 Order free of charge our seasonal calendars
Good for your health, good for the climate
Our seasonal calendar helps you to buy seasonal and regional food. This way you can make a valuable contribution to the climate and do something good for your health!
You can download the seasonal calendar for free or order it as a poster.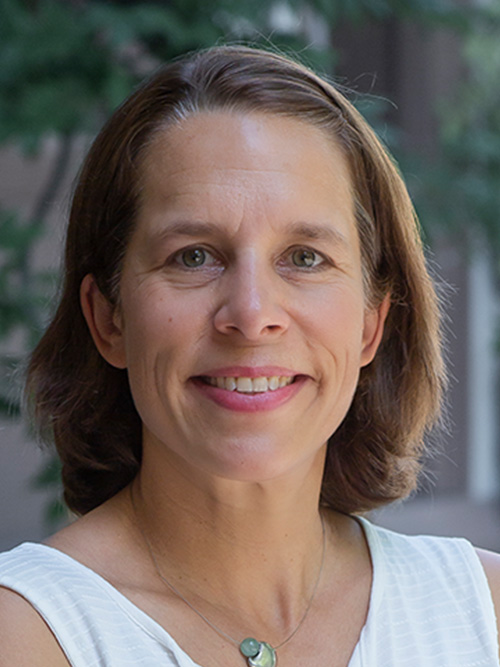 reformed.
Yes to the climate law: Churches also have a duty to act
The Yes vote on the climate protection law was well received by church organizations. If Switzerland wants to achieve net zero by 2050, the churches must now also put their foot down. 
Contribution with Katharina Gfeller, Head of International Relations Mission 21
Ideas for teaching and worship, as well as action ideas for your church congregation, will be published in the spring of 2024.