Subject Library
The library of Mission 21 is open to the interested public as well as to students. In close connection with the research archive, it looks back on a good 200 years of collecting activity and has rich holdings of the Basel mission. It also offers current specialist literature on missiology, global Christianity, contextual theology, African studies and development policy. The entire book collection can be searched in the online catalog Swisscovery: ► To the Swisscovery website
The library of Mission 21 is open to the interested public as well as to students. In close connection with the research archive, it looks back on a good 200 years of collecting activity and has rich holdings of the Basel mission. It also offers current specialist literature on missiology, global Christianity, contextual theology, African studies and development policy. The entire book collection can be searched in the online catalog Swisscovery: ► To the Swisscovery website
Order and return of books
The open access area remains closed until further notice due to the Corona pandemic. You can pre-order the books from our library online in the catalog and pick them up from us as soon as you have received a pick-up invitation. The ordered books will be available in the library entrance area from that time on. Works published before 1890 can only be consulted in the reading room.
The loan period for books is usually 28 days. If there is no reservation, this period is automatically extended twice and can be extended independently three more times in the user account. The maximum loan period is 6 months.
Books that are no longer needed can be placed in the return box provided in the library entrance area around the clock or sent by mail.
You can find more detailed information on the subject of use and borrowing in our Rules of use (PDF).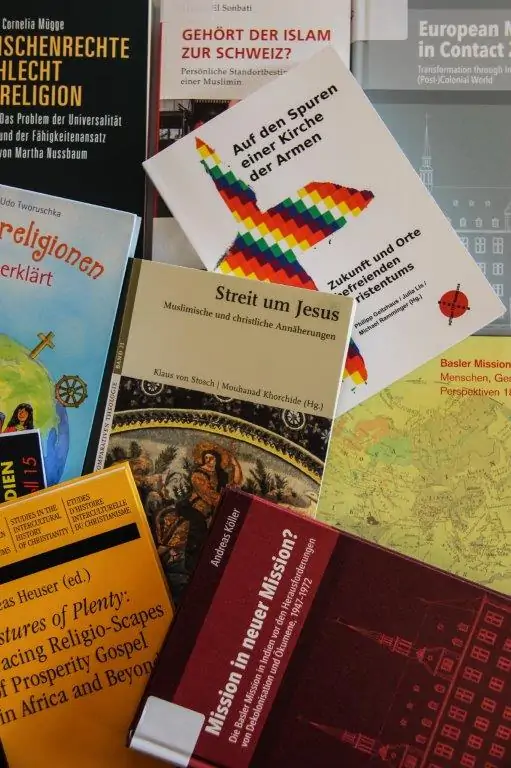 The thematic focus of our library is based, on the one hand, on the long-standing collecting activities of the Basel Mission (1815-2000) and, on the other hand, on the development cooperation of Mission 21 and the needs of the researchers in our archives. In addition to academic literature, the library also offers generally understandable non-fiction books on socially relevant topics.
Specialties
Mission in history and present
World religions, interreligious dialogue
Theological viewpoints from Africa, Asia and Latin America
African Studies with a strong focus on West Africa and Southern Africa
Development policy in the broadest sense, religion and development in particular
Geographic focus:
Africa: Ghana, Cameroon, Nigeria, DR Congo, Tanzania, South Sudan, South Africa
Asia: India (especially South India), China (South China), Sabah/Malaysia, Indonesia
Latin America: Bolivia, Peru, Chile, Argentina
Sorry, we couldn't find any posts. Please try a different search.