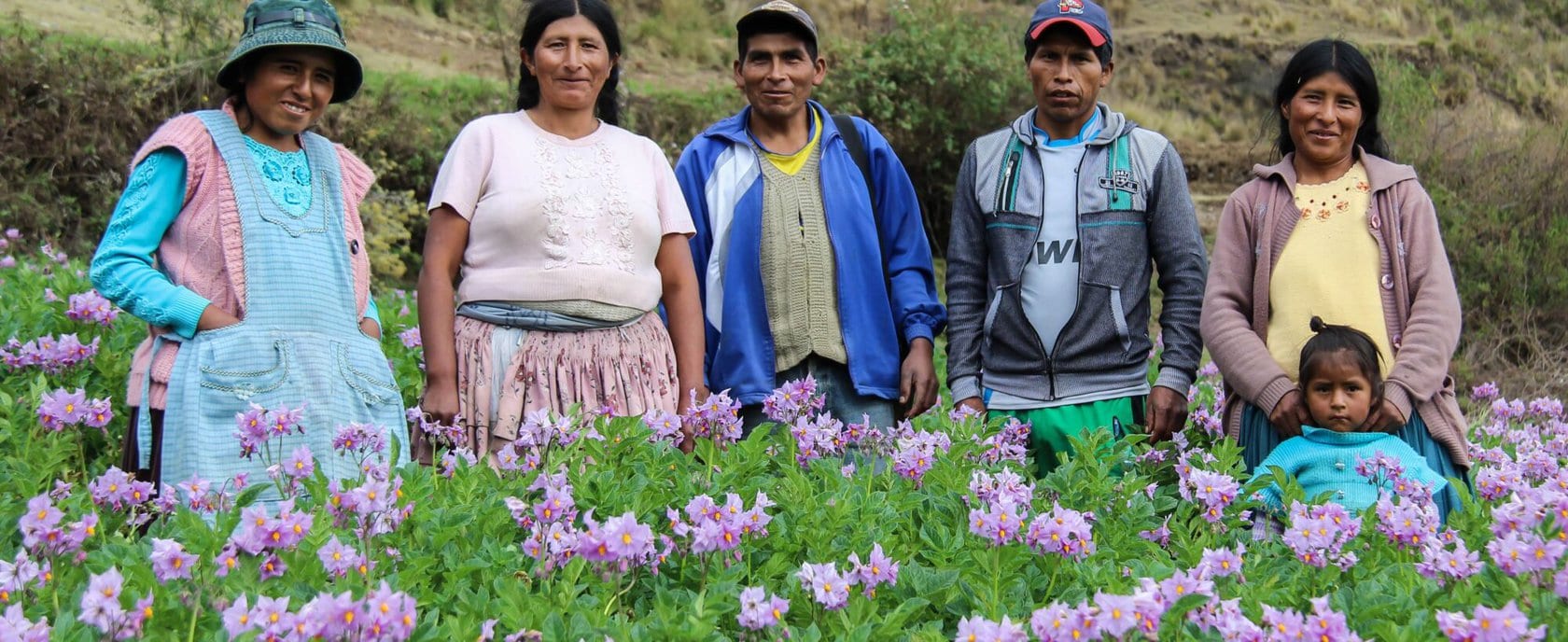 Food sovereignty in the Andes
Project Number: 420.1020
Mankind has never produced as much food as it does today, and yet around 735 million people worldwide suffer from acute and chronic hunger (Welthungerhilfe, 2022). Another 2.3 billion are affected by malnutrition, according to the Food and Agriculture Organization (2021). The population in the Andes is particularly affected by malnutrition. Our partners work in the high mountains of Peru and Bolivia with more than 4500 Quechua and Aymara-speaking smallholder households to overcome anemia, nutrient deficiencies and the right to food through organic agriculture in rural and urban contexts. Thanks to agroecological farming, families are able to cultivate soils and fields in harmony with nature, and with the help of local seeds, specially created biofertilizers and small greenhouses, create new food systems that provide nutritious food and generate income for families throughout the year. This type of agriculture also enables the families to bind climate-damaging greenhouse gases into the soil and to live a caring and respectful relationship with nature in the spirit of their spirituality. Families of one of the most vulnerable and marginalized population groups in the Andes thus work on their own resilience, health and autonomy.
Background information
In the strategic area of food sovereignty, we work with numerous small farmers in the greater Cusco area (PE), as well as in the catchment area of Lake Titicaca in Bolivia and Peru. In these areas there is a lack of a varied, balanced and healthy diet. But extreme weather events - such as drought and prolonged extreme cold leading to frost - are also increasing in intensity and frequency due to climate change. Thus, the right to food and health of many indigenous smallholder families is coming under pressure. Agro-industrial and state-sponsored cultivation of potatoes and quinoa, as well as smallholder families seeking adaptation strategies to climate change, are overstretching natural resources in an attempt to meet their food needs.
For some years now, smallholder households have been using more and more pesticides and artificial fertilizers, as well as industrial and genetically modified seeds. This leads to additional financial expenses for households, but also to an increasing dependence on agro-industry and to a significant loss of biodiversity and soil fertility. Women do the main work in providing for their children and families and do most of the subsistence work in the fields, while men and the younger generation migrate and work as migrant workers or miners. Despite their great achievements, women are disadvantaged in terms of land ownership and voice in village communities or at the communal level. Their participation in decision-making is very limited. The project work of our partners changes this. Due to their central role in the household, women are one of the main target groups of the project activities.
Project goals
Smallholder families produce high-quality food according to agroecological principles (SDG 2.4) and eat a healthy and balanced diet throughout the year (SDG 2.1).
They manage the fields in a resource-conserving manner and in harmony with nature. Soil and water management is sustainable and takes into account new challenges in the context of climate change (SDG 13.1).
Women and men participate in policy processes at local and regional levels to promote agroecology and food sovereignty (SDG 16.7).
Equal opportunities for women and their participation in decision-making processes are particularly promoted (SDG 5.5).
Where production surpluses occur, work is done on marketing vegetables or produce and income generation (SDG 10.2)
Target groups
Bolivia
The Bolivian Network for Healthy Soils (PNS) with its 54 member organizations and 106 grassroots organizations, promotes sustainable agriculture at the local level and influences at the political level to improve the living conditions of producers. At the same time, the network works to create a social and solidarity economy throughout Bolivia;
The Machaqa Amawta Foundation trains small farming families in five village communities from Ayata, Dept. La Paz, in agroecological farming, establishes new outlets for the sale of vegetables, herbs, eggs and guinea pigs, and thus improves their household income;
Fundapim trains small farming families from Luribay, Dept. La Paz, in agroecological farming. Greenhouses as well as water retention basins and irrigation systems are created in order to grow vegetables all year round.;
Focapaci trains and supports Families from economically poor backgrounds in the big city of El Alto so that they can significantly improve their nutritional basis by growing vegetables, herbs and fruits in their greenhouses in an ecological way, project urban gardens in El Alto.
In the urban neighborhoods of El Alto, own seed banks are created to secure the urban garden movement in El Alto, (Focapaci)
Outlets in urban centers are created for families with urban gardens, improving household incomes (Focapaci)
Peru
Centro Bartolomé de las Casas runs the Observatory for Agroecological Agriculture, Water and Food Sovereignty QAWARISUN through which they engage smallholder households in dialogue with the broader urban public, academia and other communities via webinars, podcasts and conferences in Cusco;
The CBC's QAWARISUN trains smallholder households from 15 Andean village communities from the departments of Apurimac and Cusco in agroecological farming, water management, and food sovereignty;
CBC organizes biodiversity fairs and book fairs in Cusco on water management, agroecological farming, food sovereignty, and climate change, reaching a broad urban public;
The CEDEPAS-Centro trains and supports numerous families in the Arapa region, Puno, in 9 village communities in the agroecological cultivation of their fields and greenhouses.
In addition to this core activity, Cedepas-Centro supports grassroots agricultural organizations in advocacy work for government promotion of agroecological agriculture and better water management.
In addition, Cedepas-Centro works to install irrigation systems and water retention basins, and equips households with solar thermal systems and solar-powered water pumps.
Activities
Farm families are trained and supported in the following areas:
Agroecological cultivation methods: Production of liquid and solid fertilizers (Biol, Bocashi, worm fertilizers), rotation methods, intercropping, green manuring, agroforestry;
Diversification and reappropriation of local seeds;
Improved soil & water management
Access to and knowledge about healthy and balanced nutrition
Creating market access and revenue opportunities;
Participation in political processes
Improve opportunities for women to participate in political processes;
Lobby and advocate before government institutions to channel additional government funds into sustainable agriculture, water harvesting, and building additional irrigation infrastructure.
Within the framework of the new partnerships (2020) with the Bolivian Network for Healthy Soils and Agroecological Cultivation (PNS) and the Peruvian Observatory for Agroecological Agriculture, Water and Food Sovereignty of the Centro Bartolomé de las Casas (CBC), further training events will be created for small farmers as well as interested parties from agricultural associations, academia, project staff of other non-profit organizations. In this way, new forms of knowledge transfer for agroecological agriculture in the Andean belt are created, which reach beyond the national borders of Bolivia and Peru to Ecuador, Colombia and Argentina. In addition, the traditional indigenous way of life and spirituality of the southern Andes is being socially valorized, and organic agriculture and sustainable water and soil management are being brought into the focus of authorities and universities. 
Project progress
The project activities of our partners reached the following target group in agroecological agriculture in 2022.
Bolivia
Throughout Bolivia: 3967 Smallholder farmers, Bolivian Network for Healthy Soils (PNS).
In 2022, the network also promoted the exchange and regular training of the 52 member organizations and 106 grassroots organizations and lobbies at the national level. 
In Ayata, La Paz: 349 Smallholder farmers (88 families). Additional irrigation facilities and water retention basins were also built, Machaqa Amawta Foundation (FMA);
In El Alto: 320 Urban residents (80 families) in urban gardens and greenhouses. 2022 were also 42 Multipliers in the production of seeds and 30 families trained in further processing of vegetables/fruit/herbs and created new income opportunities for them, partner Focapaci;
In div. municipalities in Luribay, La Paz: 1`000 smallholder farmers (200 families) Partner Fundapim.
Peru
In Caminaca, Arapa, Picaflor, Puno: 410 Smallholder farmers (102 families). Also, additional irrigation facilities and water infiltration ditches were created, partner CEDEPAS-Centro
In communities from Cusco and Apurimac: 480 smallholder farmers (118 households) and 40 multipliers from the previous year via refreshment course in organic farming, 88 Multipliers received training in water management and water quality measurement. The partner has also offered numerous podcasts and virtual training opportunities. A training module is offered in collaboration with the Peruvian University Antonio Ruiz de Montoya, whereby participants can receive an academic certificate, partner CBC.
Due to drastic phases of drought and prolonged cold spells in the project regions in Bolivia and Peru, which can be attributed to climate change as well as to the weather phenomena La Niña and El Niño, Mission 21 is currently working together with its partner organizations in Peru and Bolivia to upgrade the projects in the area of food sovereignty to include the component of disaster prevention. This involves intensive work on infrastructure in the form of infiltration trenches, water retention basins and reforestation for long-term water harvesting.
These measures help to reduce the risks posed by periods of drought. They will be complemented over the next year by a long-term strategy of reforestation, which will help to moisten the soils.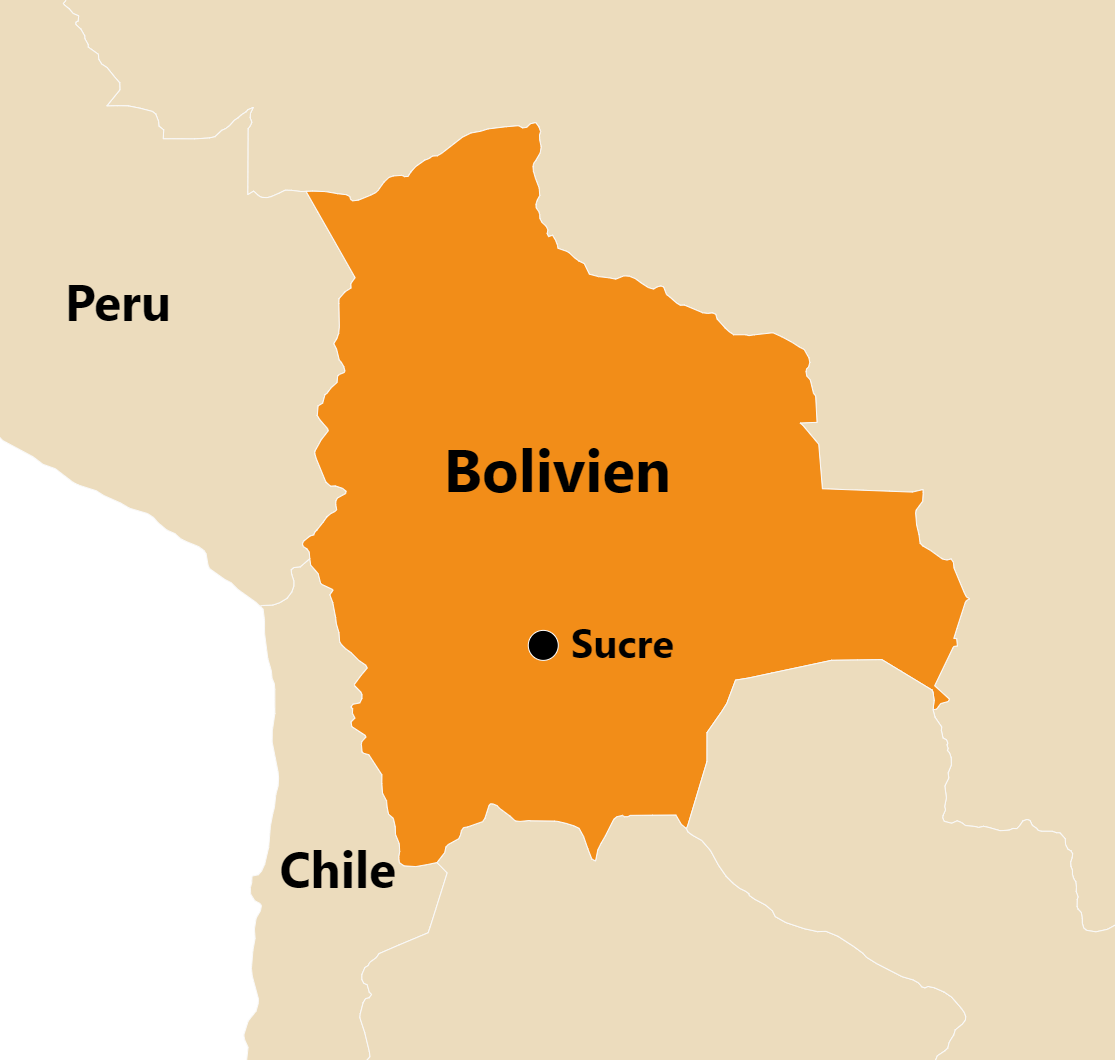 Bolivia
11.8 million inhabitants (2021)
37.5% live below the poverty line (2021).
Peru
33 million inhabitants (2021)
30% live below poverty line (2021).
Project budget 2023
CHF 280'000