Ira Imelda is director of an emergency shelter for women in Bandung, in Indonesia. Annemarie Grünig is the director of the Frauenhaus Graubünden. The two met on June 8 in St. Martin's Church in Chur for an exchange, as two of numerous women from four continents. A sad commonality: many of those present have had experiences with violence. Ira Imelda and Annemarie Grünig reported from their work with women who experience domestic violence and made parallels and differences between their institutions and their clients visible.
The women's shelter in Bandung is also a key partner in this year's Mission 21 campaign, which focuses on education for women in Asia. Read more at www.mission-21.org/campaign
Exchange across borders
The City Talk provided the framework for an exchange of experiences across thematic and geographical borders. Marcus Caduff, member of the government of the canton of Graubünden, opened the event by welcoming those present. Author Christina Caprez reported on the women's movement in Switzerland with reference to the book "When, if not now". The presentation of Paska Aciya Nimiriano Siya, pastor from South Suan, was read out, as she could not travel in person as planned due to problems with her visa. She reported on the peace work in her conflict-ridden country and the important role of women in it. On the one hand, they are important actors when it comes to reconciliation and reconstruction, on the other hand, women in South Sudan are particularly often victims of violence and displacement. Paska Aciya also reported about abuse she had to suffer herself and about the long way she has gone to be able to talk about it now.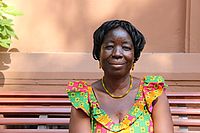 Paska Aciya Nimiriano. Photo Miriam Glass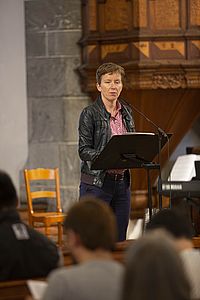 Author Christina Caprez. Photo Samuel Rink
The perspective from Latin America was brought by the Rev. Ruth Vindas from Costa Rica, who highlighted the role of churches in preventing violence. She stressed that violence against women is not exclusively an individual problem of those affected, but affects the whole society: "In the countries of Latin America and the Caribbean, violence against women is an obstacle to all development, in a broader sense, to the whole society, and this violence continues to increase."
Start to the events of the mission week
The event was a first for Mission 21: the audience was free to come and go. the event, divided into different talks and musical elements, lasted several hours and was translated from different languages. It was a very personal and diverse start to the Mission Week, which will conclude on Sunday with the Festival of Encounter in Davos.
Several public events will take place in Davos from Friday to Sunday as part of the Mission Week. We are looking forward to your visit!
All information about the events at www.mission-21.org/synode
The town talk was accompanied by music. Photo Samuel Rink.