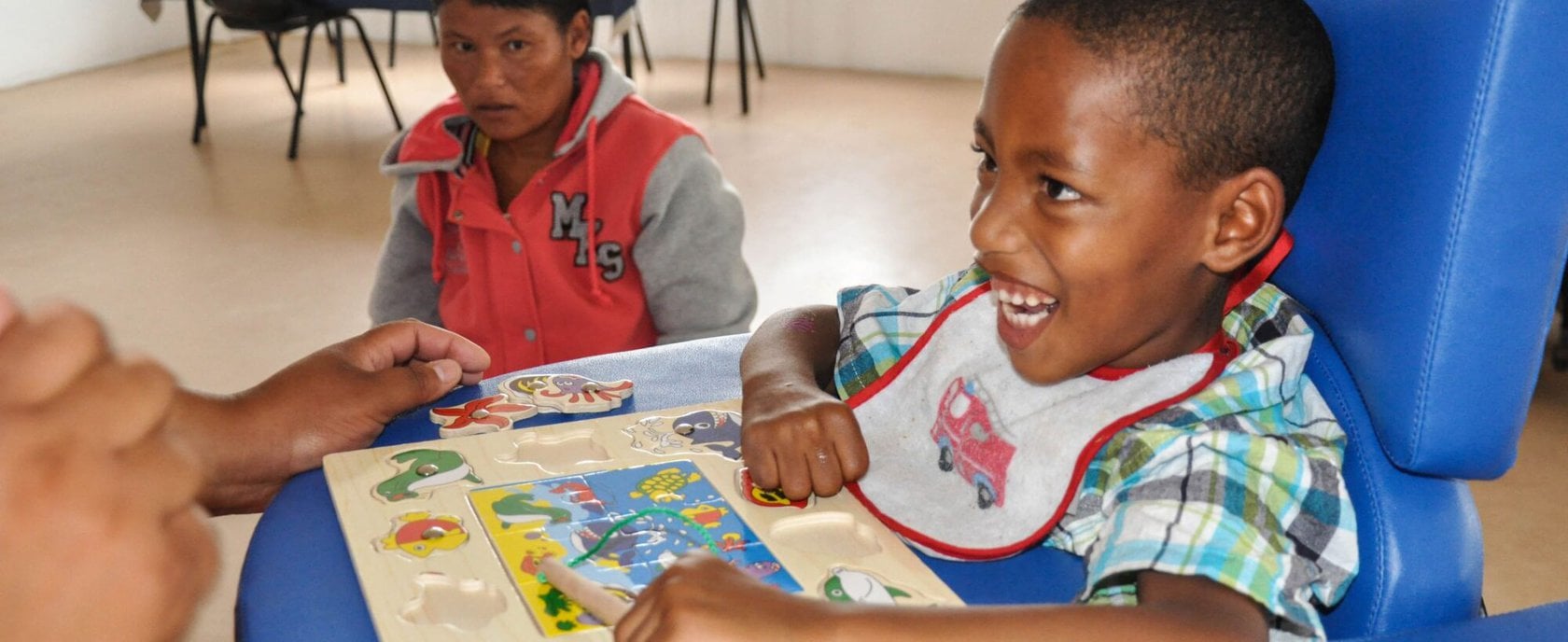 Elim Home - a home for children and young people with disabilities
Project Number: 181.1502
The Elim Home is a facility of the Moravian Church of South Africa (MCSA) for the support of children and young people with mental and physical disabilities. It is one of very few rehabilitation centers in South Africa where full day care is provided for children with severe disabilities. The Elim Home guarantees holistic care for the children and young people.
Background information
The Elim Home was founded in 1963 to help especially those children with disabilities for whom there were no institutions to support them during the time of apartheid. Unlike for "white" children, there were no care facilities for "colored" children with mental disabilities at that time. There are still very few such institutions in South Africa, so that children with disabilities come to the Elim Home from a radius of 700 kilometers. Today, the home accommodates 50 children and young people, and more than 20 are on a waiting list. The goal of the facility is not only to care for the children, but also to provide them with targeted support. Thus, the residents at the Elim Home learn basic skills in order to gain more independence in simple everyday activities. The children and young people receive intensive mental and physical support through modern therapeutic approaches such as physiotherapy, occupational therapy and art therapy.
The facility is located in the old mission station Elim, about 220 kilometers east of Cape Town. In addition, there is now a day care center in each of the towns of Gansbaai and Bredasdorp, where children are supported from Monday to Friday by therapists and also by specially trained parents. This new program allows more children to be reached. It also allows them to remain integrated in their family and social structures.
Project goals
Through various holistic therapeutic measures, the Elim Home contributes to the comprehensive support of children and adolescents with intellectual disabilities.
Target groups
50 children with severe mental and physical disabilities, mainly from poor families in South Africa.
Activities
24-hour care for children and adolescents with severe intellectual disabilities
Occupational, physical and art therapy by qualified therapists
Day care with therapeutic offer in two outposts in Gaansbaai and Bredasdorp
Home visits by trained therapists
Education and awareness-raising work in surrounding communities on the rights of people with disabilities.
Operation of a tomato plantation and an olive grove to increase the self-financing of the facility and to integrate disabled people into agriculture.
Project progress
The Elim Home is an esteemed institution for the promotion of children and young people with intellectual disabilities in South Africa. A long waiting list testifies to the high reputation of the Elim Home. In recent years, the facility has been carefully renovated. The buildings, which are over 50 years old, and their sanitary facilities have been brought up to a standard that allows all residents to live in dignity. The decentralization of the work is also remarkable. In addition to the 24-hour care in Elim, two other locations were opened in Gansbaai and Bredasdorp, where children are supported during the day but otherwise live with their families.
Almost without exception, the children and young people come from poor families who are unable to make substantial contributions to care and therapies. The majority of the costs are financed by donations. In order to be more independent of these fluctuating donations, the Elim Home has set up an agricultural project, the income from which can be used to additionally finance the work of the facility. There is now an olive grove with around 100 olive trees, from which oil is extracted. In addition, nine greenhouses are now in operation, in which tomatoes can now be produced all year round thanks to a heating system. In addition to the income from sales, the tomato and olive projects have a gratifying side effect. The children and young people can be supplied with fresh vegetables on a daily basis. Some of them are integrated into the agricultural work and help to cultivate and harvest the tomatoes and olives.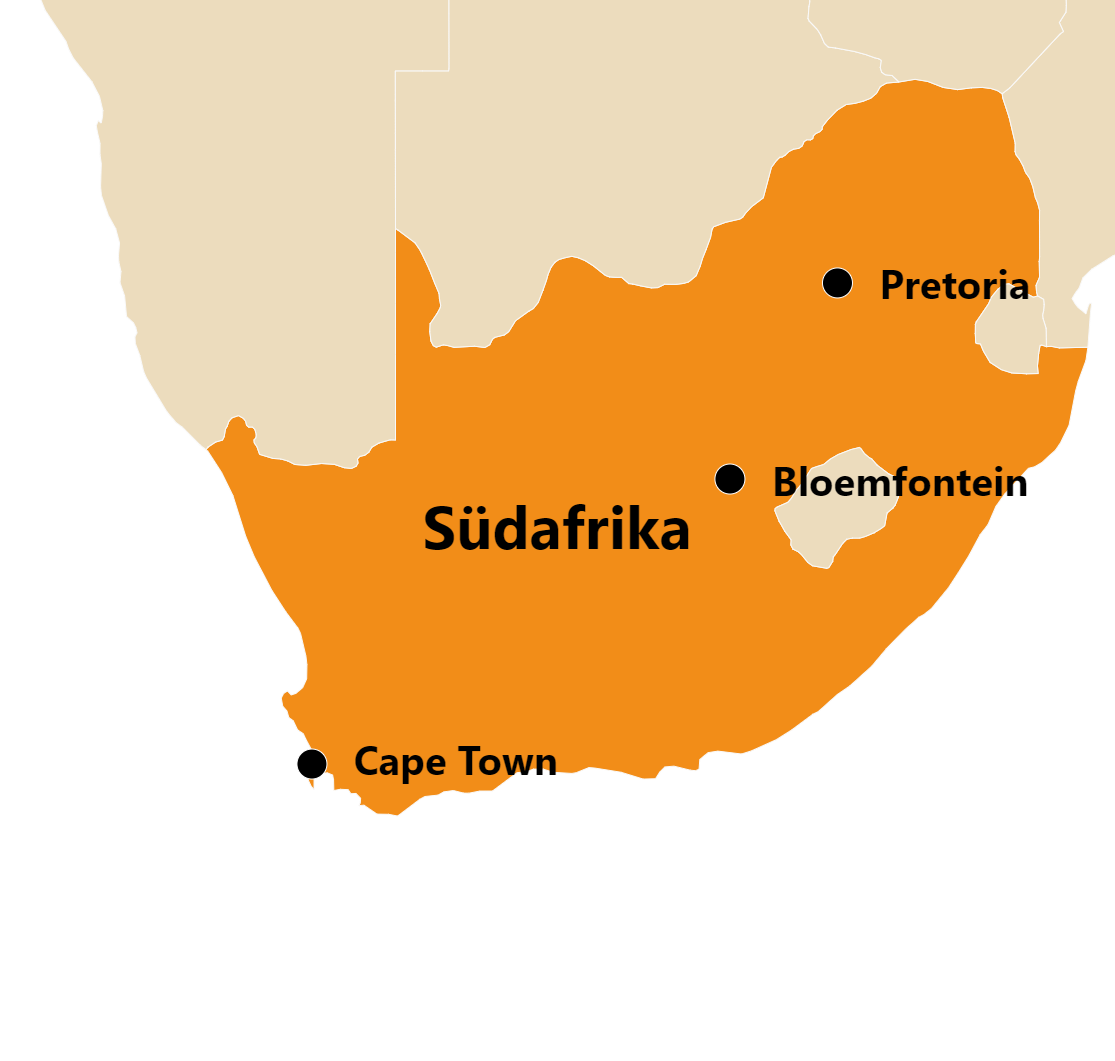 South Africa
59.3 million inhabitants
Country area is 1'219'912 km2
The Elim Home is run by the Herrnhut Mission in South Africa and supported by the Evangelical Mission in Stuttgart (EMS) organization. Mission 21 participates with financial contributions to the EMS