Her family and friends advised her to remain realistic and to marry like her three older siblings. Despite the attitude of her social environment, however, Sarah did not want to give up hope. As a devout Christian, she remembered a quote from the Bible and turned to God with it in prayer:
Ask and it will be given to you; seek and you will find; knock and it will be opened to you. (Matthew 7:7)
A fateful encounter
After finishing secondary school, Sarah started looking for a job. She hoped to earn enough money to eventually realize her dream. However, she soon had the sobering realization that even a ten-year salary would not be enough to cover the cost of college. Discouraged, she began to resign herself to her fate. She did not yet know that it had a completely different plan for her.
One day in Nairobi, she met Peter Gai, the president of the Presbyterian Church of South Sudan. He is an acquaintance of her parents and encouraged Sarah Moti not to give up. Two days later, he referred her to the Mission 21 scholarship program, and the young woman immediately applied for a scholarship.
A dream come true
Her ambition paid off. One Sunday morning in January 2015, she was contacted again by Peter Gai. She could hardly believe it when she heard his voice say from the phone, "Pack your things and come to Nairobi. You will go to university!" Her dream was actually - finally - becoming a reality! The whole situation seemed paradoxical, since Peter Gai (Nuer) and Sarah Moti (Murle) belong to two ethnic groups that are in conflict in South Sudan. However, Peter Gai transcended these ethnic boundaries and supported Sarah Moti throughout her studies. During this time, Peter Gai became a role model, mentor, and father figure for Sarah Moti.
Graduation with distinction
The opportunity to study was far from a given for Sarah Moti, who comes from a poor background. She seized her opportunity and worked hard during her studies, which were supported by Mission 21. For three years, she attended the University of Nairobi every lecture on journalism and media studies and acquired skills in oral and written communication, editing, and photography. She wanted to become a journalist. For this, she successfully overcame her disadvantaged role as a woman and as a fourth-born, and, against all expectations of her social environment, obtained her university degree in journalism in 2018 and did so with distinction.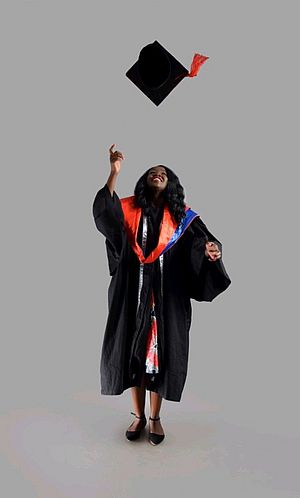 Sarah's story is one that gives hope to others to never give up on their own dream. This year, Sarah Moti will begin working as a communications officer for the Presbyterian Church. She will use her acquired knowledge to make the work of the Presbyterian Church in South Sudan better known and also to enable other children to have the dream of an education.
Text: Jeanine Krucker
Photos: Sarah Moti