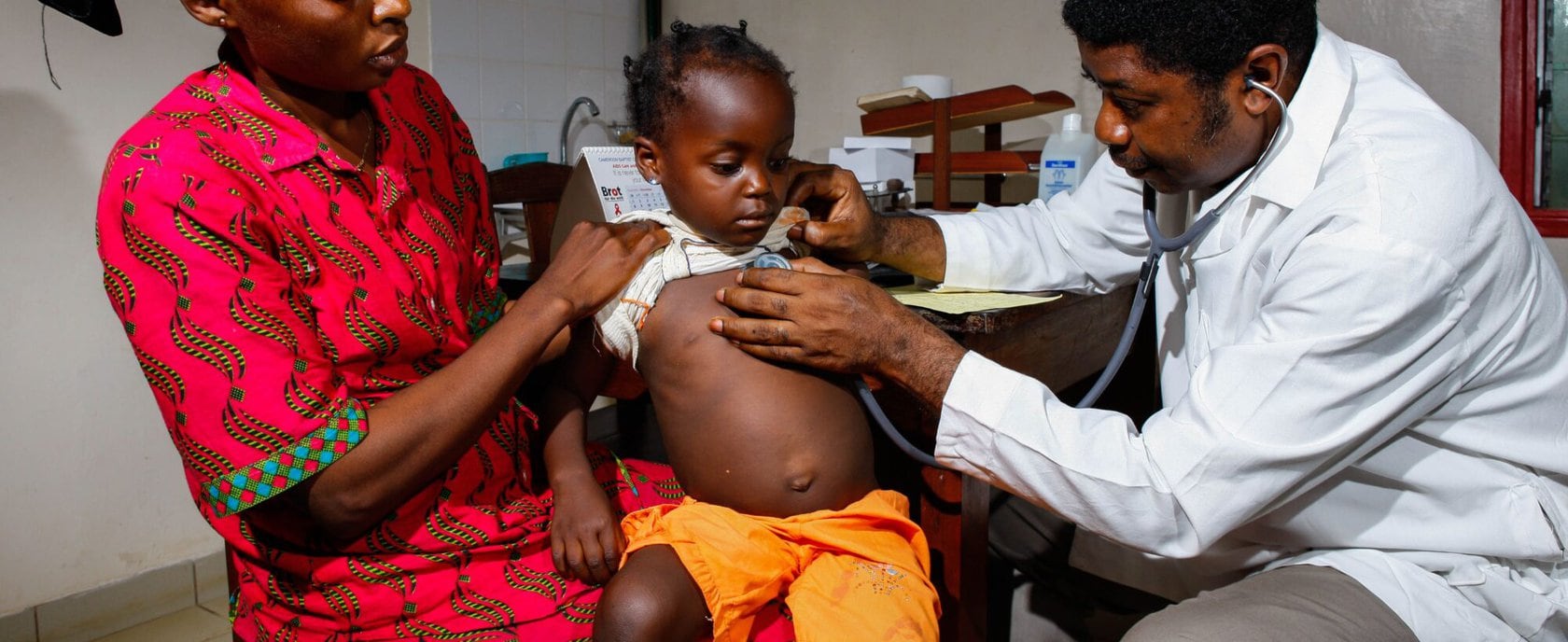 Health care and HIV prevention in rural areas
Project Number: 134.1029
The health services of the Presbyterian Church in Cameroon (PCC), Mission 21's partner church, ensure basic medical care for the predominantly rural, disadvantaged population. The Manyemen Hospital treats people as inpatients or in mobile clinics. Due to the political crisis in the Anglophone regions, many internally displaced persons receive help there. In addition, the PCC is committed to helping people living with HIV. With the aid of courses at schools, in church congregations and generally for multipliers, "life skills" are strengthened among young people. A counseling center for questions around sexuality could be opened in Buea in 2019. Unfortunately, gender-based violence is on the rise in the ongoing conflict in the Anglophone regions. Here, the center provides important assistance. In 2021, a training center for the education and training of nurses was opened.
Background information
The state health services in Cameroon are weak. They limit their activities primarily to the cities. One focus of the project is therefore on healthcare provision in rural areas. PCC runs the Manyemen Hospital, which has been expanded to form the "Medical Institutions Manyemen". Here, acutely and chronically ill patients are treated in the following ways - for example with tuberculosis, leprosy and the HI virus - treated and advised. Officially, 3.4 percent of Cameroon's population is currently living with HIV. The PCC offers help and solidarity for these people. Women and girls are severely affected because they have fewer opportunities to protect themselves. Legal advice, further training and income promotion help them to achieve economic independence and reduce the risk of infection. Children and young people who have lost their parents because of AIDS are given a new home and thus a perspective for the future. The political crisis in the Anglophone part of Cameroon is exacerbating the problems. The health care services are also aimed at internally displaced persons. The training center for caregivers is intended to improve the quality of health care in the long term.
Project goals
Improving primary health care in rural areas
Awareness
Contributions to the livelihood and medical treatment of people living with HIV and the fight against their discrimination and stigmatization.
Education and training measures as well as legal counseling for people affected by HIV, especially for widows and orphans
Reduce the number of new infections through outreach and education.
Inclusion of internally displaced persons
Education and training for caregivers at PresNus
Target group
The project focuses on the rural and disadvantaged population in southwestern Cameroon. Since the escalation of the political crisis in the Anglophone regions in 2016, which favors a significant increase in diseases such as leprosy, Manyemen Hospital also cares for internally displaced persons. One sub-target group is people living with HIV, especially widows and orphans. In addition, people who carry out educational work, such as health personnel and multipliers like parish priests and teachers, receive further training. Victims of gender-based violence can also receive help. Nurses are given the opportunity for training and continuing education at the PresNus center (Presbyterian Nursing School).
Activities
Continuous education and training of medical and technical staff
Awareness-raising and educational work on health-related topics within the framework of all church fields of work: in men's, women's and youth work, at all schools and training centers, in adult education and in health care
Public relations and advocacy work, with a focus on ending stigma against people living with HIV.
Helping gender-based violence through medical, psychosocial, and legal support.
HIV testing and counseling, pastoral care, free distribution of antiretroviral medications, home care, and support for support groups.
Income-generating measures for young people and women
Inclusion of internally displaced persons in all measures
Project progress
The focus is on good and reliable basic medical care, especially in rural areas. In this way, this project is providing important assistance to the people of Cameroon, especially to internally displaced persons in the current crisis. Since its inception, the HIV program of the PCC has been developing appropriate strategies for dealing with HIV, but also beyond this on issues of sexuality and gender-based violence. The focus of HIV work continues to be on prevention and also on counselling and support for those affected. A center for the education and training of caregivers was opened in 2021 in Limbe, SW Province.