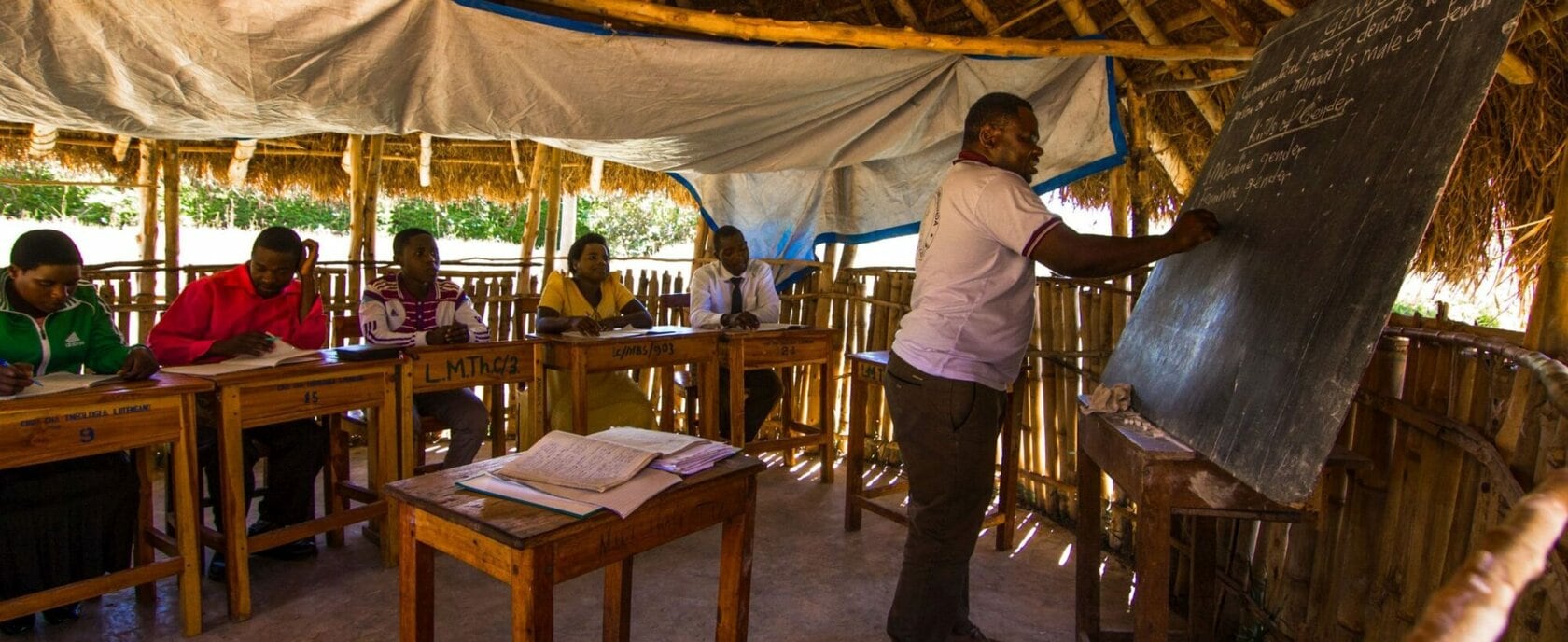 Project Number: 186.1504
A solid and broad theological education is one of the most urgent tasks of the churches of the South. Only through well-qualified pastors will they be able to continue to successfully meet the challenges of society. Future pastors in Tanzania need to be more than just good theologians. They need skills to work socially and diaconically in their congregations. Mission 21 supports theological education in terms of personnel, scholarships for female students and further training for lecturers and pastors.
Background information
As early as ten years after the first Herrnhut missionaries came to East Africa, training of local theologians began in 1901 at the Rungwe mission station. In the meantime, most of the provinces of the Moravian Church in Tanzania have their own theological training centers where future pastors are trained and educated. The church is also the sponsor of Teofilo Kisanji University (TEKU) in the city of Mbeya, where doctoral studies in theology are now also possible.
The Teofilo Kisanji University Theological Seminary offers an academic and ecumenically open and globally networked education. The courses are also taken by students from Kenya, Malawi and Zambia.
Project goals
Graduates find answers to challenges facing society as a whole (HIV, poverty, violence, inequality)
Graduates contribute to the holistic development of the country
Students gain access to a high quality theological education
Students are sensitized to the importance of interfaith relations, especially between Christians and Muslims
Target groups
Students at the Faculty of Theology of TEKU
200 multipliers (church leaders, pastors)
Activities
The following activities are planned for 2023:
Promote teaching, specifically in the areas of inclusion, gender justice, peacebuilding, Christian-Muslim relations, ecumenism, and prevention of HIV and domestic violence.
6 scholarships for undergraduate studies for disadvantaged women.
Promote networking and exchange with national and international theological education institutions.
Project progress
After a long period of support, Mission 21 was able to make the theological training centers in Lutengano and Utengule financially independent at the end of 2021. Both now have significantly improved infrastructure. In Lutengano, students occupy a new dormitory building and use new classrooms and library space. There is a kindergarten for the children from Lutengano. In Utengule, the construction of 5 new classrooms was completed, providing good working conditions for faculty and students. There, in addition to a three-year certification course in theology, a four-year diploma course could be established. Teachers from the institutions continued in-service didactic training at Teofilo Kisanji University in Mbeya in order to be able to teach even better in the future.
It is very gratifying that the increasing importance of female pastors to our partner church is now also reflected in theological education. Since the beginning of 2021, a female dean, Rev. Lupi Mpembela, has been in charge of the Theological College in Lutengano for the first time. At the TEKU Theological Seminary, six women began their theological studies in October 2022. A Bachalor degree will qualify them for further leadership roles in the church. Among others, they are taught by Rev. Pia Moser-Gfeller from Bern, who has been sent to Mbeya as a guest lecturer for one semester.