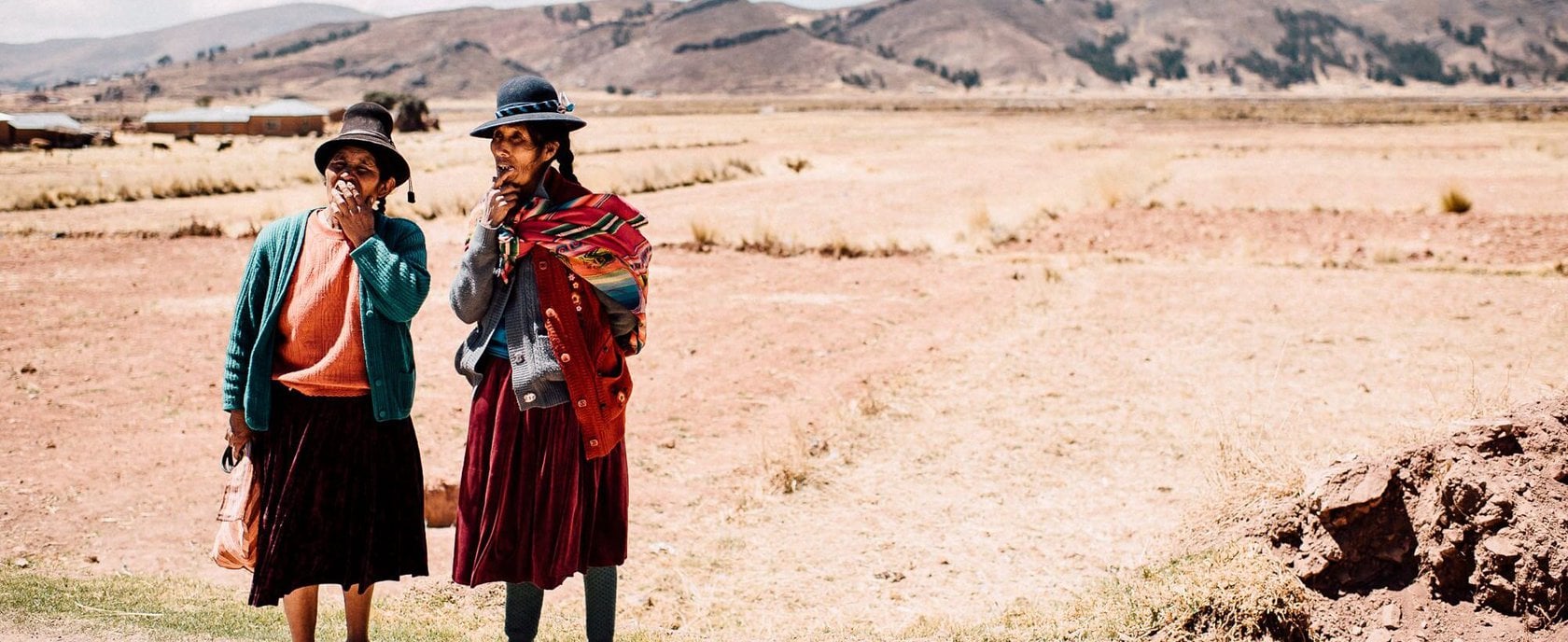 Mission 21 supports numerous projects in Peru together with five partner organizations. The focus is on promoting education. The aim is to enable indigenous women in particular to participate actively in social life and political processes. The area of food sovereignty is also important. This is because the target group is severely affected by poverty. Geographically, the commitment is concentrated on the department of Puno in the Peruvian southern Andes. The region is particularly affected by climate change.
Education
Many indigenous people cannot read or write. Women are particularly affected by this. Literacy is an important step in order to participate in social life. Specific knowledge is also needed to market agricultural and handicraft products. Mission 21 and its partners maintain various educational programs in the Peruvian southern Andes. This empowers the indigenous population economically, socially and politically.
Strengthening the indigenous population
Almost half of the population in Peru is indigenous. Nevertheless, there are still colonial structures and a strong white elite in politics and business. The rural, indigenous population in Peru has hardly any access to political participation and decision-making processes. The indigenous population is also particularly affected by poverty. Mission 21 and its partners strengthen the indigenous population in Puno by promoting education. This is because information and knowledge are the first step in enabling vulnerable groups to gain access to political processes and actively shape society.
Empower women
Many of Mission 21's projects in Peru benefit indigenous women in particular. This is because they are particularly disadvantaged. Family structures in the region are patriarchal. In addition, the pressure on women to work is very great: because of the poor economic situation, many men try their luck in larger cities. Thus, women are left on their own and have to take care of children, earn money and farm at the same time. In addition, women in Peru are often victims of domestic violence - a problem that is widespread throughout Latin America. Cases of human trafficking are also becoming more frequent in Peru. Mission 21 and its partners help affected women to inform themselves, network and stand up for their rights. Our educational support aims to ensure that indigenous women are less disadvantaged - in politics, business and within their own four walls.
Nutritional resources
Peru's southern Andes are remote from the government in Lima. The state takes poor care of the region. Job opportunities are few. Conditions for agricultural self-sufficiency are also getting worse. This is because the barren high-altitude region has been severely affected by the consequences of climate change. Malnutrition is widespread. That is why Mission 21 and its partners are helping the inhabitants of Peru's southern Andes to develop their agricultural cultivation methods. The approach of our agricultural advisors follows biological guidelines. This enables people to eat a more balanced diet in a sustainable way. In addition, the surpluses are sold at local and regional markets. In this way, the people generate an additional income.
Religion and development
All of Mission 21's partner organizations in Peru are so-called "faith-based organizations". Mission 21 is firmly convinced that religion and faith can have a positive effect on social processes. But not always: Charismatic Pentecostal churches, which convey a conservative mindset, are also on the rise in Peru. Mission 21 therefore promotes faith-based partner organizations that are socially active out of Christian conviction. Indigenous spirituality is respected and included.
Professional support through Mission 21
Mission 21 guarantees its partner organizations in Peru professional support. A locally well-established coordination office brings civil society, partner organizations and authorities together at one table, thereby improving the impact of the joint work. Where specific expertise is required, the office recruits consultants and supports them with preliminary clarifications and evaluations.