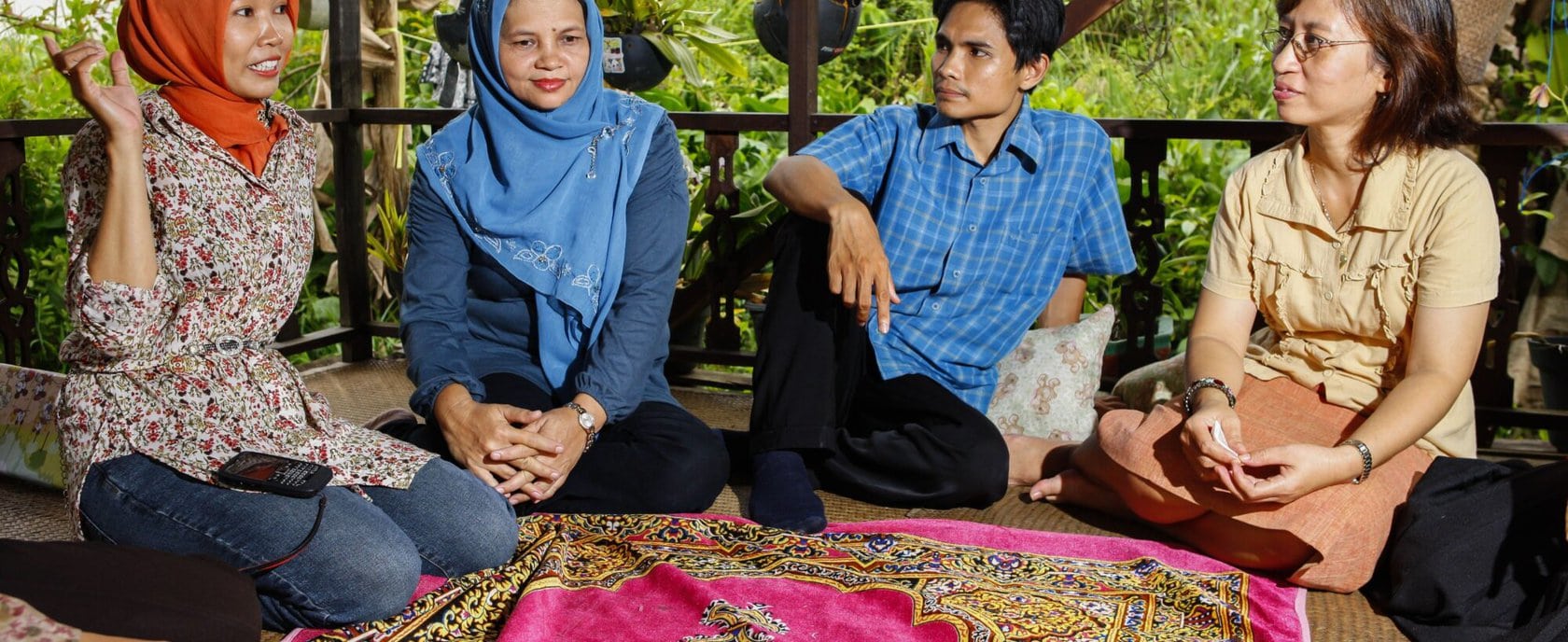 Interfaith cooperation for peace and justice
Project Number: 225.1007
The project aims to empower people in Indonesia to build peaceful and equal relationships across religious boundaries, to work together to prevent violent conflict and to disempower fundamentalist groups. Among other things, the project promotes interfaith continuing education programs and youth encounters, teacher training geared toward tolerance and diversity, and so-called peace villages. Interdenominational networks and their campaign work at both local and national level help to curb the potential for conflict and violence and build positive relationships.
Background information
The freedom of religion enshrined in Indonesia's state constitution and the state motto "unity in diversity" propagate pluralism. The majority of Muslims practice a locally influenced, moderate Islam. However, intolerance has increased among the population. Narrow-minded or uneducated views toward other religious groups are evident in social media, sermons, publications, and public and political discourse. The authorities do not make sufficient efforts to protect the rights of minority groups, including Muslim minorities such as the Ahmadiyah. Radicalism also occurs on the part of minorities, such as Christians. In various regions of Indonesia, incidents related to violence, persecution, and oppression of religious minorities occur regularly. In addition, religion is instrumentalized by anti-democratic forces: Ex-militants from the years of Suharto's autocratic rule ally themselves with Islamist groups in order to assert their own political power interests. Even the Christian-Chinese governor of Jakarta was convicted of alleged blasphemy against Allah and deprived of his power. Wahhabi-oriented educational institutions and mosques oppose tolerance and pluralism. Radical groups sprout from them and sometimes resort to terrorist means.
Project goals
In particular, young people and young leaders within the sphere of influence of our partner organizations are empowered to build nonviolent and equal relationships across ethnic and religious boundaries, to launch their own interfaith initiatives, to prevent violent conflicts, and to mitigate the potential for violence in situations of violence and conflict at various levels.
Dialogues between conflict parties for peace consolidation are initiated and accompanied
Peace mediators are trained
Strategies for the non-violent resolution of conflicts are promoted
Those affected by violence are given access to psychosocial and legal support
Government, local authorities and community leaders are sensitized to human and civil rights
Target group
The beneficiaries are selected by Mission 21's partner organizations, which are very well rooted in society. Attention is paid to participation from different religious communities, especially those not known for openness and tolerance, and special support for women. The prevailing patriarchal culture and a conservative understanding of religion often mean that the involvement of women in the public sphere and project activities is widely regarded as taboo.
Women, young adults and youth from mainly rural communities in West Java
Junior church leaders
Victims of violence, especially women
Key political and social figures
Activities
Research on radicalization in West Java
Activities to prevent radicalization and transform conflict, including awareness-raising work, book and video productions, youth encounters, practice-oriented training programs, the establishment of locally adapted formats for interreligious dialogue, the establishment of so-called peace villages, solidarity visits from communities under pressure
Psychosocial and legal support for victims of violence
Networking with high-level religious associations, government agencies, policymakers, and the media
Maintaining the alumni network of former participants, the so-called peace ambassadors
Project progress
In 2022, a total of 3,759 direct beneficiaries (50% women and girls) participated in the interfaith activities on understanding human rights, conflict transformation and non-violent approaches.
The Wahid Foundation promotes a tolerant view of Islam and stands up for pluralism, multiculturalism, democracy and human rights. Through the Peace Village Program, initiated in 2017, they empower young people, especially young women of different religious affiliations, to become initiators of social justice and tolerance in their communities and to persuade their villages to adopt peace-building measures. The Wahid Foundation works with LK3 and GKP, both of which are also partner organizations of Mission 21.
The Fahmina Institute also advocates for progressive Islam and interreligious dialogue. On the one hand, by strengthening the commitment of religious leaders who actively work for tolerance and peace within and outside their communities. On the other hand, by training young Muslim, Christian and Buddhist people in Ciberon and the surrounding area to become peace actors*. The grassroots community initiative is growing steadily: last year, peace activists, together with their communities, founded five new local interfaith organizations. The activists are becoming increasingly independent and organize activities such as meeting rooms and mutual visits to religious celebrations without the support of the Fahmina Institute.
The PGI as a religious organization representing the majority of Christians* in Indonesia, continued to focus its projects and activities in 2022 on promoting issues such as diversity, peace and combating violence against women. Its long-established "Seminar of Religions" in collaboration with indigenous communities were held as a live-in for the first time: Participants in the seminar lived for a period of time in the homes of Sundanese Wiwitan believers. The understanding and empathy for the respective religions were thereby enormously increased among all participants. The TAB program for interreligious dialogue and cooperation has become a central pillar of the CIP's activities and reaches many young people throughout Indonesia in particular.
The project activities of the Christian Pasundan Church also focus on the same topics GKPwhich are aimed at young people in the province of West Java. In the new program phase starting in 2022, the GKP has also begun to establish a peace village program - with great success. Leaders of the religious communities, politics and village communities support the activities of the young peace promoters. This commitment is therefore being extended to other villages. The GKP's interfaith youth camp is becoming more and more established. The 11th edition of it received prominent attention from the local government for the first time.
Indonesia
279 million inhabitants
87% of the population are Muslims
10% of the population are Christians
Budget Basic project 2023 (duration of program phase: 2022-2025)
CHF 104,075