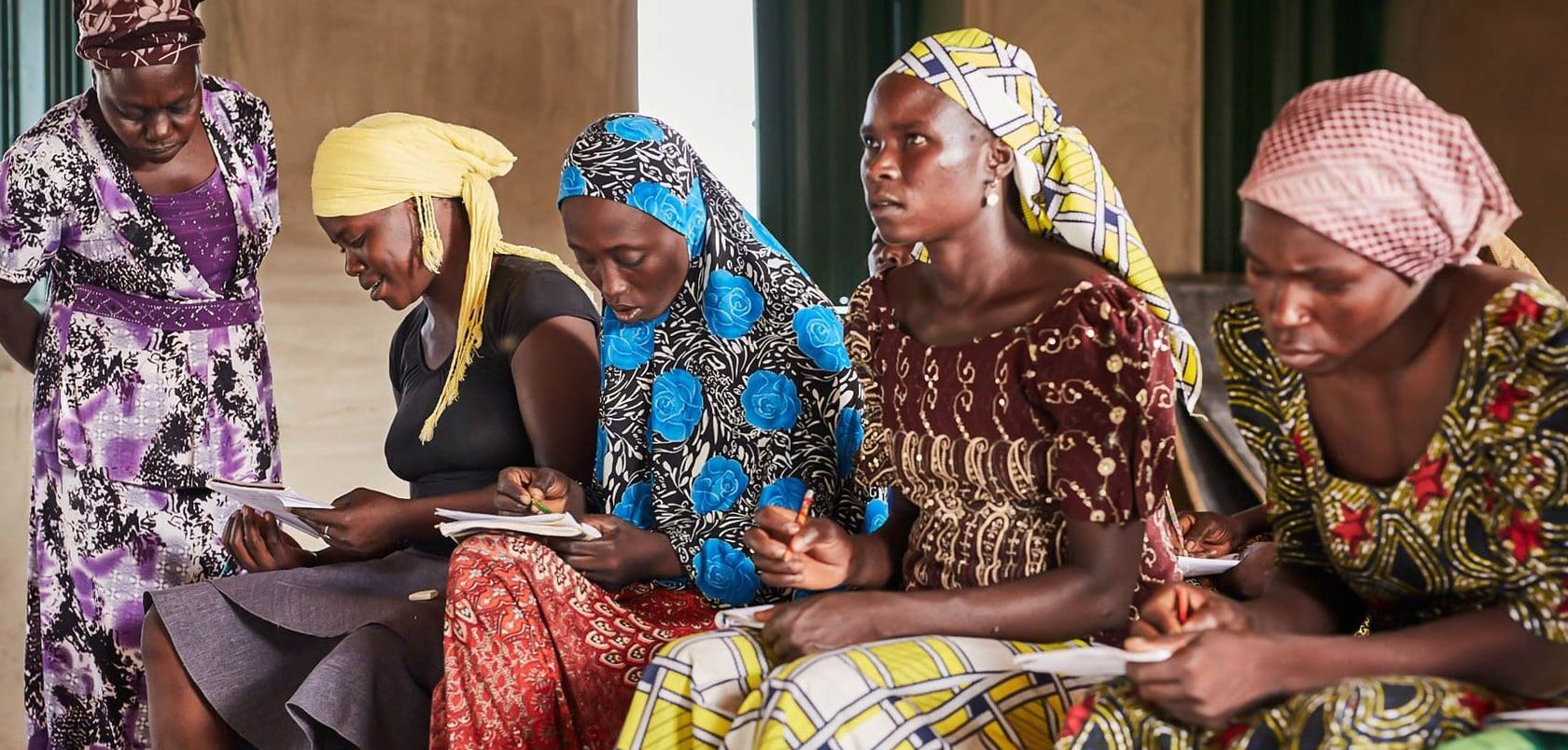 In Nigeria, Mission 21 focuses on promoting peace and securing livelihoods. Mission 21 supports the population with numerous projects in the areas of education, health promotion, food sovereignty and emergency aid. The focus on peacebuilding and securing livelihoods is due to the situation in the country: The jihadist militia Boko Haram has caused indescribable suffering in northeastern Nigeria through years of terror. The social and economic damage is enormous. The crisis has claimed well over 40,000 victims so far. Around 2.5 million people from northern Nigeria have been internally displaced, according to UNHCR.
Peace is destroyed
More than 2.5 million people have been displaced and have been on the run within the country - in some cases for years. In 2015, the Nigerian military pushed back the terrorist militia Boko Haram to some extent. Numerous people have returned home. But they are often left with nothing. Houses and infrastructure have been destroyed, supplies looted, farmland devastated and agricultural equipment stolen. Access to drinking water is also often no longer available for the returning population, as wells have become desolate.
Aid for displaced persons
Together with the Church of the Brethren in Nigeria (EYN) and other partner organizations, Mission 21 supports the displaced with the basic necessities for survival and the returning families in rebuilding infrastructure and livelihoods. Equally important is the reprocessing of trauma. Psychosocial support for traumatized people is an area of work that has only been taken up by a few actors. The limited supply contrasts with an enormously high need for assistance. Women and children are particularly affected by the conflict, so Mission 21 attaches great importance to supporting them.
Peacebuilding
The conflict region in northeastern Nigeria is home to the partner church EYN. More than 8,000 of its members have died as a result of terror by militant groups. Nevertheless, the members continue their work for peace. The partner church is anchored and accepted in the region - an important prerequisite for becoming active in the complex situation.
Dialogue between Christians and Muslims
There is great distrust between different religious groups. Acts of violence have fundamentally disrupted peaceful coexistence, especially between Christians and Muslims. Mission 21's partner organizations work with people regardless of their origin, ethnicity and religion. In peacebuilding, interreligious dialogue is central. Peacebuilding activities include numerous opportunities for people of different religious communities to meet.
Food Sovereignty
Northeastern Nigeria is characterized by a long dry season, soil erosion and declining soil fertility. Due to attacks by Boko Haram, hundreds of thousands of families have had to leave their fields fallow, which has massively exacerbated the supply situation in the region. In addition, climate change and unsustainable use of natural resources are making it difficult to farm profitably. Mission 21's partner organizations are countering this by training smallholder farmers in environmental protection and sustainable agriculture. In addition, they offer further training that promotes employment, in order to show a way out of poverty.
Education for young adults and women
Access to education and vocational training for young adults and women is very important, especially in northeastern Nigeria, which is heavily affected by various conflicts. They should be able to secure their livelihoods in the long term. The interfaith NGO "Lifeline Compassionate Global Initiatives" (LCGI) is a partner organization of Mission 21 and enables new perspectives in life through craft training and the granting of interest-free loans. The partner church EYN is also very committed to better educational opportunities.
Health Promotion
Nigeria has the largest number of people living with HIV on the continent. In the conflict area, the risk of new infections is particularly high. The partner church EYN and the partner association for the promotion of natural healing products and natural resources (AsProNMeR) therefore educate people about preventive measures. They offer training on health, hygiene and nutrition. In doing so, they also combat the stigmatization of HIV-positive people and counsel affected families.